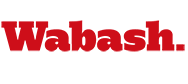 Homecoming Win Moves Wabash to 3-0
September 25, 2010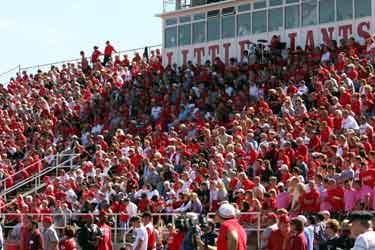 A spirited and huge Homecoming crowd along with special teams play got Wabash off to a fast start against the University of Chicago Saturday as the Little Giants improved to 3-0 with a 31-14 win.
See more photos from game action here , here, here, and here.
Just like a week ago at Ohio Wesleyan it was a blocked punt that opened things up for Wabash. Sam Smith blocked a Maroon punt on the Chicago 39-yard line then freshman Jonathon Koop picked it up and raced 12 yards for the early Wabash lead, 7-0
On Chicago's next possession it was James Parnell picking off Maroon quarterback Kevin Shelton at the UC 33. That turnover resulted in a Spencer Whitehead 42-yard field goal, the longest of his career, 10-0.
"I would say it really was just business as usual," Whitehead said. "Everybody blocked well. (Kyle) Grand had the snap and (Josh) Miracle had a good hold. I just put a punctuation point on it."
Coach Erik Raeburn had plenty of praise after the game for his special teams creating turnovers and Whitehead's field goal efforts and consistently deep kickoffs.
"Those guys doing a great job," Raeburn said. He singled out Smith, Koop, and Kyle Najar for their efforts the past two week. "I thought our kickoff coverage was excellent and Spencer has been doing a great job with his kickoffs."
Whitehead has had a very consistent to start to the 2010 season that he credits to the "Three Amigos." He had a chance to quickly set a new personal best with a 46 yard attempt that fell just short. "I was actually on the ground so I didn't know what exactly happened," the senior kicker said. "I didn't draw a penalty but everyone told me it was straight but just a little bit short."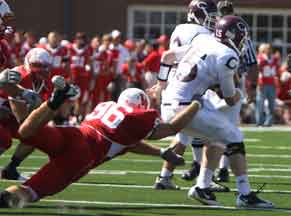 The defense was strong, special teams were great and the Little Giants didn't hurt themselves with penalties as they did a week ago. The only real dark spot was four lost fumbles. But overall, Coach Raeburn was pleased with improvement he saw in Week 3.
"I'm real proud of how we played on defense," he said. "I decided to put our second team defense in (during the fourth quarter), and that was my decision. "We missed a tackle or we would have had them stopped so we gave up a drive. I am disappointed; I should have left the starting defense in one more series. But I thought our defense played excellent all game. I really was impressed with Chicago's offense on film. Our kids stepped up real big this week.
"We're still careless with the football and turned it over too many times but I thought this was best game of season so far."
Wabash picked up another first quarter score on Chase Belton's 21-yard run. The sophomore quarterback led the Little Giants with 87 net rushing yards. He hit on 11-of-20 passes with one touchdown and no interceptions.
Jonathan Horn had a big day with six catches for 125 yards and a score while freshman James Kraus continues to turn heads with three catches for 89 yards, one of those went 65 for a TD.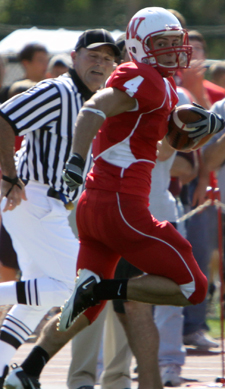 "They were playing pretty tight man coverage so I made a double move and Belton threw a great ball," the North Judson freshman said. "I'm just trying to step up and make plays."

A lot of eyes have been on Krause since Wes Chamblee and Kody LeMond went down with early season injuries. Krause showed great speed in separating himself from the defender after the catch.

"He's the guy that's had to go in for Wes," Raeburn said. "Those guys, Wes and Kody, every time they touch the ball they're a threat to go the distance. It's hard to lose that off your offense. So it's big to have some of these young guys step up and get us some of those types of plays."

Wabash out-rushed and out-passed the visitors. The Little Giants had 167 rushing yards to Chicago's 121. Chicago had 167 through the air to Wabash's 174.

Defensively, C.J. Gum again led Wabash with seven tackles. J.D. McClintic had his biggest day of the year with six tackles and two sacks.

"We were way more disciplined (than last week), that was the theme in practice," the senior defensive end said. "We really tried to focus on getting our keys down and trusting our teammates on the field. I tried to use a little more quickness today. I'm usually a little more of a bull rusher but they were dropping back so hard I just tried to get up the field as fast as possible."

McClintic said Coach Raeburn has been making it clear he wanted more penetration from his defensive line. "He's been harping on us all week," the Monticello, IN. native said. "And every week he tells us we need to get back there or he's going to change something."

Chicago falls to 2-2. Wabash (3-0) goes back on the road next week to Kenyon. The Lords (0-3) dropped a 17-10 decision at Carnegie-Mellon.

In Photos: Top right, it was an over-flow crowd packed into Hollett Little Giant Stadium.. Center left, McClintic grabs the ball carrier from behind. Lower right, Kraus looks back for a defender - he outraced the defense for a 65-yard score.




Results: Wabash 31, Chicago 14 Game Stats