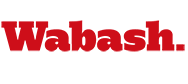 Ground Game Overpowers OWU
by Howard W. Hewitt

September 18, 2010

DELAWARE, OH. – For the first time in nearly four years the Little Giants rolled up more than 40 points without a single touchdown pass. Five Wabash ball carriers scored six touchdowns for a 45-21 NCAC win at Ohio Wesleyan.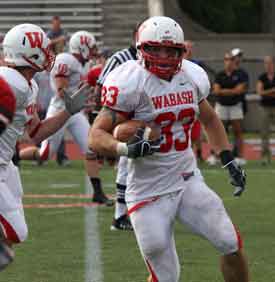 The Little Giants (2-0) jumped to a 10-0 lead but led just 10-7 at halftime. A 21-0 third quarter blew the game open with touchdown runs from Derrick Yoder, Chase Belton, and Tommy Mambourg. Vann Hunt opened the first and fourth quarters with TD runs. Senior Fenton Blew scored his first Wabash touchdown to cap Wabash's scoring.
"We talked to our offensive linemen this week and said we need to try to run the football better," Coach Erik Raeburn said. "We were hoping to get 200 yards rushing. I felt like we blocked and came off the ball well. I thought at running back we ran harder than we did a week ago and made a lot of improvement in that area."
The Little Giants netted 189 yards rushing on 44 attempts. Yoder led the way with 58 while Vann Hunt added 35. Hunt scored his first collegiate touchdown on an 8-yard run to open scoring and then added another on a three-yard scamper early in the fourth.
"It felt good to get out there and get some touches," Vann Hunt, a Phoenix, Ariz., sophomore, said. "The offensive line and H-back blockers did a good job and opened up some holes for me. "
After two games some of the pre-season questions about the very young Wabash offensive line are being answered.
"I think they've improved a lot since the start of camp," Raeburn said. "At beginning of camp we were getting overwhelmed by our defensive linemen. But I think it really benefited the offensive line and made them get better."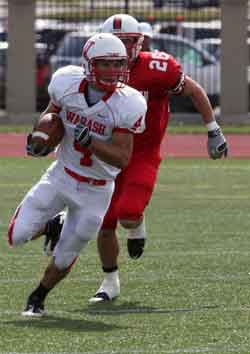 The last time Wabash failed to get a scoring pass came in a loss on November 15, 2008 against DePauw. The Little Giants won a 45-24 contest versus Wooster on October 25, 2008 without throwing a TD pass.

Wabash's momentum came in large part courtesy of an ineffectual Battling Bishop punt squad. OWU's special teams scored a full house of miscues. Two blocked punts, a deflected punt, and two shanked punts (for a combined 14 yards) led to five Wabash scores.

Unfortunately, the hosts didn't have a stranglehold on the comedy of errors. Wabash was flagged 11 times for 109 yards. Four of the penalties were personal fouls.

"We had 1,000 penalties it seemed like," Raeburn said. "It was ridiculously stupid - either before the snap or after the whistle. Honestly, I want our guys to play hard but at some point you have got to be smart and be under control and so far after two games we haven't done that."

Sophomore quarterback Chase Belton threw for 159 yards on 14-of-23 passes. He also threw two picks. Freshman wide receiver James Kraus continued his impressive debut with 69 yards on three catches.

Another bright spot for Wabash was Cameron Sobleski's punting. The freshman had four punts with a long of 50 yards and a 42.2 average.

Jake Martin and Sam Smith led the Wabash defense with seven tackles apiece. Smith had his second interception of the season in the first quarter. Senior Linebacker C.J. Gum picked off a Bishop pass and returned the ball 24 yards to the 1-yard line, setting up a Wabash score.

Wesleyan compiled 378 yards of total offensive to Wabash's 342. The Little Giants held the Bishops to 88 rushing yards. Ohio Wesleyan scored its two final touchdowns against Wabash's second team defense.

"We just came out and had a little more spark after halftime," senior defensive end Nick Ramsey said. "We just had to change our mentality. We were starting to play dirty and we just needed to play smart and play fast likely we usually do.

"It's mainly the mental part of football. We're a lot bigger team than a lot of teams we play and a lot faster but it doesn't matter if you don't execute your assignments and give 100 percent on every play."

Ohio Wesleyan plays its first-ever night game next week hosting Wooster. The Little Giants return home to host University of Chicago for Homecoming.

Photos - (top left) Senior linebacker C.J. Gum returned this interception to the one yard line to set up a Wabash score.

(Bottom right) Freshman James Kraus led the Wabash receivers with three catches for 69 yards.




Results: Wabash 45, Ohio Wesleyan 21 Game Stats