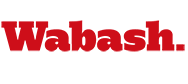 Expectations High For Wabash Soccer
by Jim Amidon

August 31, 2010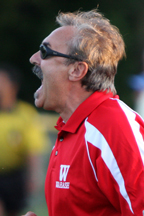 Fifth-year head soccer coach Robert Giannini has high expectations for his 2010 Little Giant soccer squad. Asked about his expectations and Coach Giannini minced no words — he expects his team to compete for a conference championship.
"We have the age, the talent, and we've been together for three years now," Giannini said mid-way through pre-season training camp "The way they are training is awesome. I'm sure there will be ups and downs in the season, but the expectations are high."
The Little Giants opened the season Wednesday with a 2-1 win at Anderson when Phil Rosborough scored with just three minutes left in the match.
Coach Giannini's optimism is tangible. You can see it on his face, hear it in his voice, and see the bounce in his step when he talks about his 2010 team. In fact, when Coach Giannini challenged his players to work hard in the off-season, he promised to do the same. When training camp opened, the coach had lost 35 pounds.
"I couldn't ask them to do it if I wasn't willing to do it for myself," the coach said.
Wabash finished 9-9-1 last year and knocked off Wheaton when the Crusaders were ranked 23rd nationally. A week later, Wabash tied DePauw, a team then ranked 23rd, 2-2. The team narrowly missed the NCAC playoffs and finished with a 4-5 league record.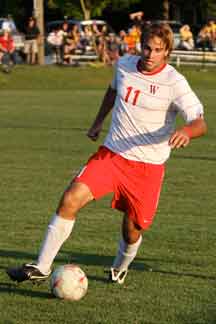 The top eight goal scorers return for the 2010 season. The squad is dominated by juniors, many of whom have started and lettered in their first two seasons. But senior Mark Babcock
(left)
, a two-time All-NCAC selection, will captain the team again this year after scoring seven goals a year ago. Babcock scored the first goal of the 2010 season when he hammered in a penalty kick at Anderson Wednesday night.
"The difference between years past and this year is that I see much more team chemistry," said Coach Giannini. "The players have a better understanding of their roles and no mater how many minutes they play or goals they score, they get it now; they understand how to play as a team."
In addition to the return of Babcock, junior All-NCAC standouts Femi Oluyedun (9 goals, 2 assists) and Dylan Andrew (5 goals, 9 assists) will provide a good bit of the team's offense. This year, however, Coach Giannini has put two-year starting center forward Austin Jennings (6 goals) out on the wing and brought Oluyedun (pictured below) into the center spot.
Sophomore midfielder Ryan Fier provided a surprising spark to the offense in his rookie year, scoring three goals with five assists to make the All-NCAC honor squad.
Also returning are junior midfielders Allan Swan, Josh Pedersen, Andrew Pearcy, Ian Kelly, and Phil Rosborough.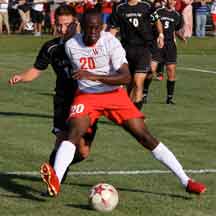 Offense wasn't a big problem a year ago when the Little Giants produced 40 total goals — the fourth-highest single season total in school history and most goals since 1995. However, the team gave up 36 goals a year ago, including 20 in the second half of games.
Four players — junior Pat West, sophomore Matt Paul, and rookies William Wettering and Ian MacDougall — will battle for the starting spot in goal.
"We must be able to close out matches this year," said Coach Giannini. "That's what I'm looking for from this team, which has been together for three years and has great chemistry.
"We need to have this kind of unity and this kind of family situation not just now, but also when things get tough — and they are going to be tough — that's the only thing that can hold us back," said Giannini.
The Little Giants will host the first annual Robbie Dreher Memorial Classic this Saturday and Sunday. Wabash plays Spalding University Saturday and Maryville University (TN) on Sunday. Both matches begin at 2 p.m.
The Robbie Dreher Memorial Classic honors the memory of young Robbie Dreher, the son of former Wabash soccer player Scott Dreher '82, who along with his mother, perished in an airplane crash. Scott will return to campus to take part in the weekend's Classic.