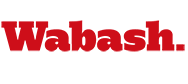 Cross County Opens Promising Season Saturday
by Jim Amidon

August 25, 2010

The Wabash cross country team won't officially open its season until September 4, but will get a nice warm-up to the coming season with this weekend's Charlie Finch '51 Memorial Alumni Cross Country Race.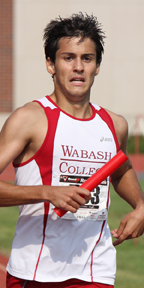 The Little Giant harriers will compete against the College's alumni track and cross country athletes in a friendly four-mile race through Wabash's Fuller Arboretum that begins at 10 a.m. on the Owen Huntsman Track.
The season officially begins with the 49th running of the Wabash Hokum Karem on Saturday, September 4.
The Wabash cross country team will be led by two-time national qualifier Seth Einterz '11 (pictured left) and two-time All-American track star Kevin McCarthy. Both runners earned All-Conference honors and qualified for the 2009 NCAA Division III Cross Country National Championships. McCarthy later earned All-America honors in the indoor 800 and outdoor 1500 races.
That duo will be pushed up front by senior Justin Allen and junior Donavan White, but fourth-year head coach Roger Busch is still looking for his fifth scoring runner to emerge.
"We are very balanced this year and in position to do some very good things on the cross country course," Busch said. "Front-runners McCarthy and Einterz should be very well supported by Allen and White. The fifth man, which is very crucial to our success this year, is wide open; there are plenty of guys running for our fifth, sixth, and seventh varsity spots.
"This should make for a very exciting fall."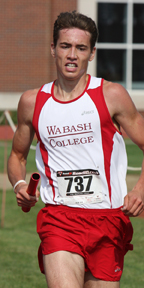 Among the men pushing for a top-seven varsity slot is indoor 800 All-American Jake Waterman, whose promising track season was cut short by an injury in the conference meet.
Also looking to make strides this year are juniors Colin Dunlap, Michael Gough, Kenny Farris, Brian David, and a few freshman runners.
McCarthy (pictured above right) emerged as a budding star when he qualified for nationals after finishing sixth in the Great Lakes Region meet. He narrowly missed earning All-America honors in cross country with a 46th place finish at nationals, but he more than made up for during the indoor and outdoor track seasons.
McCarthy ran to sixth place in the indoor 800 meters and fifth in the outdoor 1500 meters.
Einterz peaked at the right time for the Little Giants, and ran to fourth place at the NCAC Championships to propel Wabash to its highest finish at the conference meet, second. He later finished 13th at the Great Lakes Region to earn his second straight berth in the national field.
Donavan White (pictured below left) suffered a foot injury for the second straight year, which cut his season short. White ran a time of 27:13 at the conference meet to earn a spot on the All-NCAC Second Team.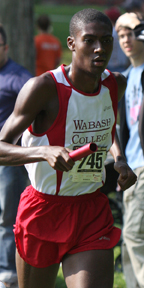 "Our three seniors — Justin Allen, Seth Einterz, and Jacob Surface — are just great leaders," Busch said. "When I say they are great leaders, I mean they are leaders on and off the course; they are great young men who are excellent students and have high expectations for life. That combination works very well for the mentality it takes to be a successful runner or part of a successful team."

Farris was 31st at the conference meet, which represented his best all-around race as a collegian. Also competing at last year's conference meet were Dunlap (45th) and David (71st).

"We're a little down in terms of roster numbers, but everyone is very focused and ready to go this season," added Busch. "The freshman class has come into the season in great shape — as have our upperclassmen. We have a lot of potential on this team, and as all cross country seasons go, there will be plenty of highs and plenty of lows. But this year it looks like we will have many more highs and hopefully just a handful of lows."

In addition to hosting the 49th Annual Wabash Hokum Karem, Wabash will also host the North Coast Athletic Conference Championship on October 30 at Southmont High School.

Wabash enters the 2010 season ranked ninth in the Pre-Season Great Lakes Region Coaches' Poll, and last year posted the fourth highest team grade point average in NCAA Division III.

2010 Wabash Cross Country Schedule (home meets in Red)

Aug 28 — Charlie Finch '51 Annual Alumni Meet

Sep 4 — 49th Wabash Hokum Karem

Sep 17 — at Indiana Intercollegiates (Purdue)

Oct 1 — at Notre Dame Invitational

Oct 9 — at Rose-Hulman

Oct 16 — Inter-Regional Rumble (Oberlin)

Oct 30 — NCAC Championships (Southmont High School)

Nov 13 — NCAA Great Lakes Regional (Hope)

Nov 20 — NCAA National Championships (Wartburg)




For more information see: