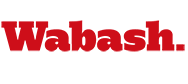 172nd Commencement Set For Sunday
by Jim Amidon

May 12, 2010

Wabash College will celebrate its 172nd Commencement Ceremony this Sunday when just over 200 Wabash men will earn their sheepskin diplomas.

Commencement will be held on the College Mall beginning at 2:30 p.m. Sunday afternoon. A reception in the Sparks Center will follow. In addition, the Baccalaureate Service for graduating seniors, their families, and the faculty will be held at 11:00 a.m. in the Pioneer Chapel.

All eyes will be on the sky early Sunday with rain forecast for Saturday night. In case of rain, graduation ceremonies are moved to Chadwick Court. Check the latest weather details for Crawfordsville

here

.

In keeping with a long-standing tradition, two members of the graduating senior class will be the only speakers at the Commencement Ceremony. Spencer Elliott of Fort Wayne, Indiana and Jon O'Donnell of Huntington, Indiana will give the Commencement Addresses.

For the first time ever, the

Commencement Ceremony will be streamed live on-line

and available free to alumni, friends, and family members. A commemorative DVD of the Baccalaureate and Commencement ceremonies will be available in the Wabash College Bookstore in about a month.

Wabash President Patrick White will present each graduating senior with his diploma. He will also present honorary degrees to a pair of distinguished Wabash College alumni, as well as a native of Crawfordsville.

Receiving honorary Doctor of Humane Letters degrees will be Religion Professor William "Bill" Cook, Wabash Class of 1966, and Crawfordsville native Will Shortz, who is the New York Times Crossword Editor and the "Puzzlemaster" for National Public Radio's Weekend Edition Sunday. (Shortz will give a public talk about his career Saturday night at 7:30 p.m. in Ball Theater.)

Washington, D.C. attorney David E. Kendall, Wabash Class of 1966, will receive an honorary Doctor of Laws degree.

Spencer J. Elliott is a Dean's List student who majored in political science and minored in theater. He was an exceptional performer in Wabash College Theater productions, appearing in 11 plays as an actor, including the leading role in
The Elephant Man
early in his freshman year.
His stage work was twice honored with the Ryan Champion Theater Performance Prize and in 2009 when he earned the Phi Beta Kappa Prize.
Spencer will become a Corps Member with the Teach for America program this summer, and will spend the next two years teaching at an Indianapolis public high school.
Jonathan D. O'Donnell is a Dean's List student who majored in chemistry and minored in philosophy. He spent a semester studying in Salamanca, Spain, and participated in Wabash's Summer Study in Ecuador Program, during which he studied in the Galapagos Islands.

Jon is a highly decorated chemistry student, having won the CRC Press Chemistry Achievement Award, the Howell Chemistry Award, and the Underwood Award in Chemistry.
He was named a George Lewes Mackintosh Fellow; received distinction on his comprehensive examinations; earned the Phi Beta Kappa Prize in 2010; and is a member of Phi Beta Kappa.
Jon will continue his education at the Duke University School of Medicine this fall. Jon is a native of Huntington, Indiana, and he is the son of Mr. and Mrs. James O'Donnell.
William Robert "Bill" Cook '66 sang in the Glee Club, was a member of Lambda Chi Alpha, and was a cum laude, Phi Beta Kappa graduate of Wabash College. A history major, he won a Woodrow Wilson Fellowship to study medieval history at Cornell University, from which he earned his Ph.D. and was awarded a Herbert Lehman Fellowship. He joined the faculty of the State University of New York at Geneseo, where he holds the title Distinguished Teaching Professor of History.

For the last two years, he has taken leave to teach at Wabash. Since his return to Wabash, Professor Cook has taught Cultures and Traditions, as well as courses in history, philosophy, and religion. He has led two classes on Immersion Learning trips to Italy, and will lead an alumni tour in Italy this summer. He is one of the world's foremost scholars of St. Francis of Assisi, but is also widely published on Dante,
The Song of Roland
, and, among other topics, medieval monasticism. He is the author of six books, including
Images of St. Francis of Assisi
and Francis of Assisi: The Way of Poverty and Humility
, and he is co-author of
The Medieval World View
. He has received Geneseo's Chancellor's Award for Excellence in Teaching, and in 1992 the Council for the Advancement and Support of Education named him New York State's Teacher of the Year.
He is the father of three adopted sons, including Eric Huynh, who graduated from Wabash in 2007. He has been an active fundraiser for the Covenant House for abused and abandoned children in New York City, and he has taught and designed courses for community colleges operating inside correctional facilities.

David Evan Kendall '66 came to Wabash from Sheridan, Indiana, and graduated
summa cum laude
in 1966 and gave the Commencement address. He received a Rhodes Scholarship and earned his master's degree from Oxford. An Army veteran, he returned to the United States to attend law school at Yale University and later served as a law clerk for Supreme Court Justice Byron White.
In the early years of his legal career, Kendall advocated for civil rights as an assistant for the NAACP Legal Defense and Education Fund, and successfully argued before the Supreme Court to overturn rape as a capital crime in the landmark case of
Coker v. Georgia
. A long-time partner at Williams and Connelly in Washington, Kendall's legal expertise includes First Amendment, copyright, and intellectual property law with special emphasis on intellectual property in cyberspace. He represents President Bill Clinton and Senator Hillary Rodham Clinton in their personal legal affairs.
Will Shortz was born in Crawfordsville, Indiana, graduated from Indiana University in 1974, and remains the only person in the world to hold a college degree in Enigmatology — the study of puzzles — a major he designed himself. He earned a law degree from the University of Virginia and has spent his entire career creating and solving puzzles.

In 1978, he founded the American Crossword Puzzle Tournament, which he still directs, and he is also the founder and past-director of the World Puzzle Championship (about which a documentary film,
Wordplay
, was made). He has served as National Public Radio's Weekend Edition Sunday "Puzzlemaster" since 1987, and he has been the Crossword Editor for
The New York Times
since 1993. He has written or edited more than 400 puzzle books, including
270 Sudoku books currently available on Amazon
.
Professor of English Tobey Herzog will serve as the Faculty Marshal for the Commencement Ceremony. He will be assisted by Junior Marshals Austin K. Drake and Jacob D. Stump, two members of the junior class at Wabash.
In the unlikely event of rain, the Commencement Ceremony will be held on Chadwick Court in the Allen Athletics and Recreation Center.
A complete schedule of Commencement Weekend activities follows:
Saturday, May 15
8:00 a.m. — Deans' Senior Breakfast
Knowling Fieldhouse, Allen Athletics Center
Graduating seniors and members of the faculty are invited to breakfast with Deans Gary Phillips and Mike Raters '85.
8:00 a.m. - 5:00 p.m. — Senior Art Exhibition
Eric Dean Gallery, Fine Arts Center
Graduating senior art majors will display their work, including painters Miguel Aguilar, Juan Diaz, Korey Pazour, David Rosborough, and Michael Scott and photographer Dan Sutton.
10:00 a.m. - 4:00 p.m. — Wabash College Bookstore Open
2:30 p.m. — Phi Beta Kappa Initiation
Lovell Lecture Room, Baxter Hall
4:00 p.m. - 5:30 p.m. — President's Reception
The Elston Homestead, 400 East Pike Street
Join President and Mrs. White for a celebration in honor of the Class of 2010 and their families.
6:00 p.m. — Class of '10 Commencement Banquet
Knowling Fieldhouse, Allen Athletics Center
This come-as-you-are meal is for alumni, parents, students and their families. Cost for the banquet is $15 per person.
7:30 p.m. — "A Puzzling Evening" with Will Shortz
Ball Theater, Fine Arts Center
Honorary Degree recipient Will Shortz, New York Times crossword editor, will give a public talk about his career in puzzles, and involve audience members in a series of word games. The public is invited to attend.
Sunday, May 16
11:00 a.m. — Baccalaureate Chapel
Wabash College Chapel
The Baccalaureate sermon will be given by Dr. Terry P. Harter '69, Senior Pastor at the First United Methodist Church in Champaign, Illinois. Seating is limited.
12:00 noon — Commencement Buffet
Knowling Fieldhouse, Allen Athletics Center
A buffet lunch will be served at a cost of $12 for graduating seniors and their families.
12:00 p.m. - 2:30 p.m. — Bookstore Open
1:30 p.m. — Legacy Photographs
Sidewalk East of Center Hall
Seniors who are legacies are invited to have their picture taken with family members at no charge.
2:30 p.m. — 172nd Commencement Ceremony
Wabash College Mall
In the event of rain, the ceremony will be held in Chadwick Court.
3:30 p.m. — Reception for the Class of 2010
Great Hall, Sparks Center
Join President and Mrs. White for a reception in honor of the Wabash College Class of 2010.