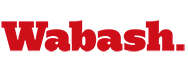 Bachelor Brings Home Four ICPA Awards
by Wyatt Lewis '13

April 12, 2010

Five Wabash men traveled to the annual Indiana College Press Association meeting Saturday at Ball State University to represent the Bachelor staff and receive four awards.


The awards include: 1
st
place to Gary James, John McGaughey, and Steve Henke, for best news or feature series, 3
rd
place to Peter Robbins; Trevor Counceller, and Wyatt Lewis for best news or feature series; 2
nd
place for best staff editorial, and 2
nd
place for best special issue.
"While some of the guys may be disappointed in bringing home four awards after last year's Best Small Newspaper Award, I'm proud," said Howard W. Hewitt, Bachelor advisor. "The state press association cut the number of contest divisions from four to three. We are the smallest College in all of ICPA. We're now competing against University of Indianapolis, DePauw, and Evansville which all have some formal Journalism classes or programs."
Gary James '10, the Bachelor Editor-in-Chief, remained hopeful for the future,
"It's disappointing we didn't place this year," James said. "The reality is we were competing against more schools with journalism programs than we have in previous years. Even so, staffers won several awards. We have just elected a new editor, (Riley Floyd '13) and I think our newspaper will continue to be strong, relevant, and engaging."
Hewitt agreed with James on the Bachelor's growth, "I'm real proud of the guys' teamwork in picking up first and third in the Best News Series category and our other two awards. We've really developed some writing/reporting depth over the years."
In photos, left, Pete Robbins; right, Wyatt Lewis.