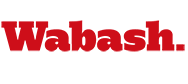 Wabash Begins Athletic Fields Construction
March 30, 2010

Wabash President Patrick White announced to over 300 Honor Scholarship participants and family members that the College would proceed with its planned renovation and construction of new outdoor athletic facilities.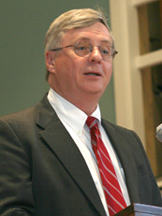 The $6.2 million initiative had been on hold since the economy collapsed shortly after the initial unveiling of the plan in September 2008. Since then, the administration grappled with decisions about staffing, construction plans, and squaring the new budget numbers with College priorities.
"When we originally decided to go ahead with the athletic fields there was a different economic environment," President White said. "But the argument that the athletic fields were important in recruiting students remains a valid argument. "
"But this is not just about attracting athletes," he continued. "This is for students who may or may not have a particular interest in playing baseball; the look in Mud Hollow may affect their feelings about the College. Just as a [prospective English] student might walk through Hays and think 'I may not take too many classes here, but it's an impressive place.' It's the look; it's the attractiveness of the campus; it speaks to the character of the campus."
The plans, which were developed in the summer of 2008, call for the construction of a dedicated baseball stadium southwest of the Allen Center with permanent seating for fans. The stadium will also have batting cages, bullpens, a press box, a concession and restroom complex, and a new scoreboard.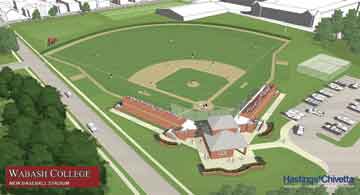 Mud Hollow will become the official home of the Wabash soccer team with a new synthetic field, permanent seating for fans, a press box, and restrooms. It will also have two additional fields for use as a practice field for the football team and for intramural sports.
The grass field at Byron P. Hollett Little Giant Stadium will be replaced with synthetic turf, and a new scoreboard will also be installed.
The improvements to the baseball field are expected to be complete by the beginning of the 2011 season. The entire plan will be completed in time for the fall 2011 sports seasons.
Athletic Director Tom Bambrey '68 said the athletic department is ecstatic about the decision to move forward with the improvement plan.
"It's a wonderful decision," he said. "We're thrilled. It's an opportunity for us to do for the outdoor fields what we did for the indoor facilities. So we'll have first rate indoor and outdoor athletics facilities, certainly for collegiate sports, but intramural and recreational sports, as well."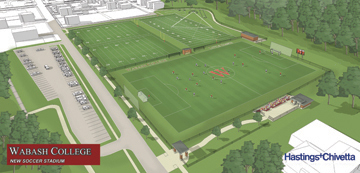 After making sufficient progress with fundraising and internal discussion about the costs and benefits of moving forward with the improvement plans, President White is prepared to get started. In gifts and pledges, the College has raised nearly $2.9 million.
Bambrey believes the improvements in outdoor athletic facilities will also help the College meet increasingly high expectations from students whose high schools invested heavily in athletic fields and who are also weighing Wabash and its athletic program against other schools.
"The baseball fields in our conference are good, but now we'll have the Cadillac of baseball fields," Bambrey said. "So now instead of looking at our fields as being inferior to the ones they've been playing on in high school, we'll have just as good and, in some cases, better facilities."
Sports Information Director Brent Harris also sees the improvements as bringing all Wabash sports on an even keel with each other.
"Most of the other sports are playing and practicing in facilities that have seen some type of upgrade in the last 11 years," he said. "Except for the hard work put in by the maintenance staff and by Coach Giannini in soccer and the Wabash baseball coaching staff, Mud Hollow has gone unchanged for nearly 50 years. I have seen those coaches put tremendous effort in improving those fields."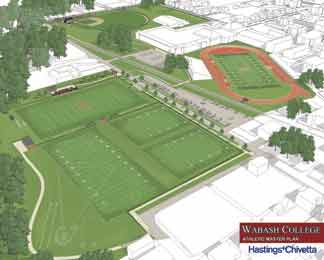 In addition to recruiting, White and Bambrey outlined other benefits of the plans, including less field maintenance and more opportunities for non-collegiate sports.
"One of the things with these new artificial turf fields is that weather really doesn't matter on these fields," Bambrey said. "A couple years ago, we played three or four football games in the rain, and, by the time we got to the Monon Bell Game it was a mess. Now that will no longer be a concern here.
"Another thing about artificial fields is they take very little maintenance," he continued. "You don't have to cut them. You don't have to reline them. Rain doesn't wash the lines away. They are set and ready to go. They drain beautifully. Water just runs right down through it.
Bambrey also recounted how uncomfortable and even dangerous the current practice field can be, making the possibility of sprained ankles and twisted knees a real cause for concern. "This changes all that."
In his remarks at Honor Scholarship Weekend, President White noted that the excellence of Wabash men finds expression in many ways.
"Excellence is valued in every aspect of life at Wabash and the same men who are heading for lab at 1:30 in the afternoon might be heading to football or soccer practice at 4:00 or Glee Club or play rehearsal at 8:00," he said.
The new athletic fields will be one more sign of Wabash excellence and help the College move forward in pursuit in all areas of our Strategic Plan to the benefit of the all our students.