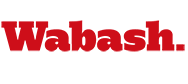 Wabash Music Department Gives Weekend Concerts
March 18, 2010

Get directions to Wabash College Fine Arts Center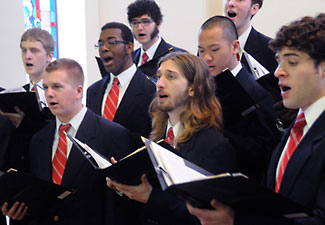 The Wabash College Music Department will offer its annual Fine Arts and Honor Scholarship Weekend Concert at 8 p.m., Friday, March 19, in Salter Hall in the Fine Arts Center.
In addition, the Wabash College Glee Club will present its Campus Concert at 4 p.m., Sunday, March 22, in the Salter Concert Hall of the Fine Arts Center.
The Friday evening concert will feature four Music Department ensembles: Wamidan (world music ensemble), Brass Ensemble, Jazz Band, and Glee Club.
The 40-member Glee Club will open Sunday's program with several sacred selections and will continue with two spirituals, and an Irish and Scottish tune. The T-Tones, a 12-member Glee Club ensemble, will sing several close-harmony songs, including the Beach Boy's 1963 chart-topper, In My Room, as well as a barbershop standard, Coney Island Baby.
The audience will be invited to join their voices with the Glee Club for Old Wabash and the Alma Mater. Wabash College emeritus professor of chemistry, John Zimmerman, will present photo highlights from this year's concert tour.
The Glee Club is under the direction of Richard Bowen and is accompanied by Cheryl Everett.
Both concerts are free and open to the public.