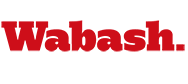 Little Giants Back in NCAC Semifinals
by Brent Harris

February 23, 2010

Wabash posted a 73-54 win in Tuesday's North Coast Athletic Conference Men's Basketball Tournament quarterfinals over Denison to advance to the semifinals for the fourth consecutive year. The Little Giants will face Wittenberg University in the semis Friday night at 6 p.m. at the College of Wooster in Ohio.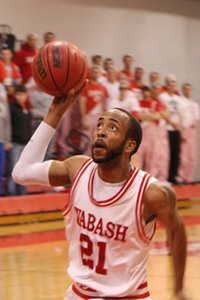 Chase Haltom blistered the Chadwick Court nets for 11 first-half points on the way to a 17-point effort for the game. Wes Smith took over midway through the final period, scoring six of his team-high 21 points over a two-minute span to lift Wabash to a 12-point lead. Smith
(right)
sparked a 12-2 run by the Little Giants after Denison had cut the advantage to eight with 9:52 left to play.
Brian Shelbourne provided 12 points and seven rebounds for Wabash, matching his career-high scoring effort. The sophomore guard hit 4-of-6 shots and 4-of-5 free throw attempts to keep the Big Red defense from sagging inside on Smith.
The Little Giants took an early eight-point lead thanks to three-pointers by Haltom (below left) and Smith, only to see Denison cut it to three with the strong inside presence of Dimonde Hale. A favorite for the NCAC Newcomer of the Year Award, Hale scored a game-high 23 points for the Big Red and had 13 of Denison's 17 first half points.
Wabash never gave up the lead, shutting out Denison over the final five minutes of the first half to build a 13-point halftime lead. The Big Red cut the advantage to eight on two different occasions before Smith's second half run put the game away for Wabash.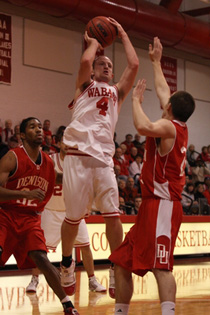 The Little Giants held Denison (7-19) to eight first-half baskets and just 22-of-62 shooting overall. The Big Red were 3-of-18 from beyond the arc and 7-of-16 from the free throw line. The Wabash defense created eight blocked shots, led by senior Rich Kavalauskas with three.

Derek Bailey added nine points and three rebounds off the bench for Wabash. Aaron Brock sat most of the first half with foul trouble, but finished with eight points, four rebounds, and three assists for the game.

Wabash controlled the boards, outrebounding Denison 42-35. The Little Giants connected on 30-of-63 shots in the game and hit 7-of-16 three-point attempts. Wabash did not attempt a free throw until the final six minutes of the game, but finished by hitting 6-of-7 from the stripe.

The Little Giants (18-7) will try for a season sweep against Wittenberg in Friday night's semifinal game. Wabash defeated the Tigers 64-57 at home before taking a 72-69 win in Springfield, Ohio last week --- the first win by Wabash over Wittenberg in Springfield in school history. The Tigers defeated Hiram 85-62. Wooster will play Ohio Wesleyan in the second semifinal game with the two winners to meet Saturday in the championship game at 7 p.m. in Wooster. The Little Giants have advanced to finals each of the past two seasons but are still looking for their first NCAC tournament title.

Highlights - Wabash vs. Denison (NCAC Quarterfinal Game)




Results: Wabash 73, Denison 54 Game Stats