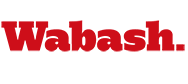 Little Giants Win at Wittenberg
by Brent Harris

February 17, 2010

Wabash took a page out of the Wittenberg playbook, using outside shooting and solid defense in the second half of Wednesday night's North Coast Athletic Conference win in Springfield, Ohio. The Little Giants erased a 13-point deficit to claim a 72-69 win over Wittenberg, recording the first victory over the Tigers by a Wabash team in Springfield and locking up a home game in the first round of the NCAC Men's Basketball Tournament on Tuesday.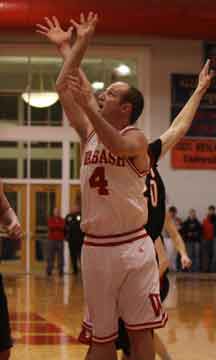 The Little Giants shot 13-of-28 from the field in the final period with more than half of their baskets coming from beyond the three-point arc. Wittenberg came into the game as the top three-point shooting team in the NCAC, but hit just 3-of-14 from long range in the final 20 minutes to suffer a series sweep at the hands of Wabash.
Senior Chase Haltom (right) caught fire in the second half, scoring nine of his 14 total points toward the end of the contest. Sophomore Aaron Zinnerman (below left) posted his second-best effort of the season, scoring 11 points with three key three-pointers down the stretch to bring the Little Giants from a nine-point trailer to a three-point lead with 9:10 left in the game. Wabash never trailed again in the contest, holding a six-point lead heading into the final minute of the game.
Wittenberg's David Nowicki, the NCAC Player of the Week, drilled a three-pointer with 56 seconds left to cut the Little Giants' lead in half. Wabash ran time off the clock before missing a shot that could have put the game away, but the Tigers' Josh McKee could not get his trey to fall in the closing seconds in an attempt to send the game into overtime. Aaron Brock hit two free throws with eight seconds left to secure the win ahead of a last-second Wittenberg basket.
Wabash fell behind 41-28 with less than three minutes left in the first half, but closed with a 6-2 run to trail by nine at the break. The Little Giants outscored Wittenberg 38-26 in the second half, picking up its ninth win in 38 tries against the Tigers. Wabash defeated Wittenberg 64-57 earlier this season at Chadwick Court to earn a series sweep and the tiebreaker in the NCAC seeding process for the upcoming tournament.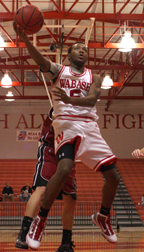 Wes Smith led Wabash with 20 points, while Brock added 16 points. Michael Cooper scored 12 points for Wittenberg (18-6, 10-5 NCAC) while Chris Sullivan chipped in 11 points, going scoreless in the second half.

Wabash (16-7, 11-4 NCAC) remains tied with Allegheny for second place in the NCAC standings with the Gators defeating Hiram 80-75 in Meadville Wednesday evening. The Little Giants will play their final regular season home game Saturday at 3 p.m. against Kenyon College. The annual Alumni Game will kick off the day's events at Chadwick Court at 1 p.m.




Results: Wabash 72, Wittenberg 69 Game Stats