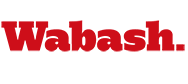 Wabash Ready For Sunday Showdown
by Matt Wilson
The Journal Review

February 7, 2010

Before watching the Indianapolis Colts' quest for a second Super Bowl title in four years, Wabash basketball coach Mac Petty hopes the Crawfordsville community will stop by Chadwick Court.

The Little Giants will have a big game in their own right, as North Coast Athletic Conference leader and No. 21-ranked Wooster comes to Crawfordsville for a 2 p.m. tipoff.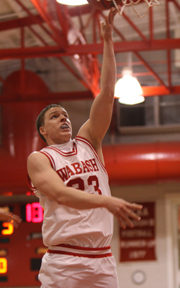 "I know that it's Super Bowl Sunday, but hopefully the community will come out and watch our game and then go to their parties after the game," Petty said.
Allegheny's 85-72 loss at Wooster on Wednesday combined with Wabash's 70-42 victory over Earlham has put Wabash alone in second place in the NCAC standings with an 8-3 record. The win over the Quakers was the Little Giants (13-6) ninth win in their last 10 games.
Wooster (16-4, 11-0) has won 11 straight games. The Scots haven't lost since a 72-65 setback to No. 18-ranked Randolph-Macon on Dec. 14. Included in that stretch of wins was a 78-60 home victory over Wabash Dec. 20. The Scots went into halftime with a 40-36 lead, then outscored the
Little Giants 38-24 in the second half. Wabash went from 52 percent shooting in the opening half to 36 percent shooting in second half. The Scots scored the first seven points of the second half before Wes Smith's three-point play with 17:29 remaining got Wabash within 47-39. That would be
the last points for Wabash over the next six minutes, as the Scots extended their lead
to 20 points.
"Sunday is going to be a huge game for us," said Wabash junior Ben Burkett, who scored a career-high 17 points in Wednesday's win over Earlham. "What we are going to have to do is play two halves. When we played them back in December, we didn't shoot the ball well in the second half.
"We are going to have to play both halves the way we have been playing during the 2010 portion of our schedule."
Petty used a different starting lineup for the first time all season Wednesday. The Little Giants went to a bigger starting five, using 6-foot, 7-inch sophomore forward Nick Curosh in place of sophomore guard Brian Shelbourne. With Shelbourne on the bench, senior Chase Haltom started at point guard.
Petty said the same lineup could be used Sunday.
"We were just trying to make some adjustments and get some different looks out of our offense," Petty said.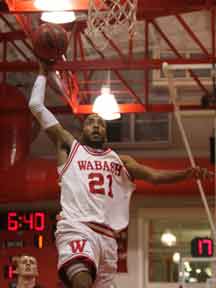 Freshman Jordan Surenkamp also saw extended minutes Wednesday. Surenkamp came in Wednesday playing just two games, averaging 1.5 minutes per contest. He played 11 minutes against Earlham, scoring six points on 2-for-2 shooting from 3-point range. Surenkamp scored 34 points in Wabash's junior varsity game Monday.
"We needed to get someone in there to knock down some outside shots and take some of the pressure off of Chase," Petty said.
Sophomore Derek Bailey also will return Sunday. Bailey missed the last three games because of a concussion in the Jan. 23 game at Oberlin. Petty said Bailey, who averages 4.6 points and 3.6
rebounds per game, could have played against Earlham.
"We are still trying to get him back into shape and into the rotation," Petty said. "Also I just want to be extra cautious when it comes to head injuries."
The Little Giants on Sunday also look to improve to 9-1 at Chadwick Court, with their only loss being 73-67 to Ohio Wesleyan Jan. 27. Three of Wooster's four losses have come on the road. Sunday also will feature two of the top scorers in the NCAC as Smith (19.1 points per game) faces Wooster junior Ian Franks (18.1 points per game). Franks is shooting 43 percent (27-for-63) from 3-point range, and Wooster as a team is shooting 35 percent (171-for-487) from beyond the arc. He had a game-high 21 points in the first meeting with Wabash.
Wooster also has junior guard Nathan Balch (10.8), junior forward Bryan Wickliffe (10.6) and sophomore forward Justin Hallowell (10.3) averaging more than 10 points per game. Hallowell has hit a team-high 48 3-pointers, while Wickliffe has done the job underneath with a team-high 6.8 rebounds.