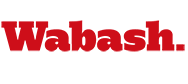 Bench Plays Lifts Wabash Past Witt
by Brent Harris

January 20, 2010

A strong rebounding effort and solid play off the bench by AZ Zinnerman and Nick Curosh kept the Wabash home court winning streak alive Wednesday night with a 64-57 victory over Wittenberg. The win moves the Little Giants into a tie for second place in the North Coast Athletic Conference standings with the Tigers two games behind first-place Wooster.

The victory was the seventh of the season at Chadwick Court and eighth in row on the Little Giants' home court dating back to last year's 68-43 win over Wittenberg.

See pictures here and view video highlights from the Little Giants' victory here.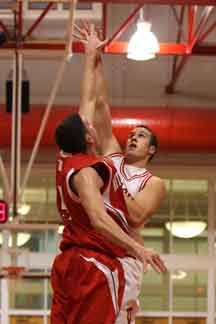 Curosh
(right)
grabbed a career-high eight rebounds and scored six points, including four points in the first half after offensive boards. Zinnerman's burst on the offensive and defensive glass as well as a quick four points in closing minutes of the game helped the Little Giants survive a 14-4 run by Wittenberg that gave the Tigers a one-point lead with 10 minutes left on the game clock. The Little Giants finished with a 10-board advantage in the final stats, grabbing 42 rebounds to 32 for Wittenberg. Seventeen of Wabash's rebounds came on the offensive end of the floor and led to 13 second-chance points.
Andrew Gilman gave Wabash the lead once again with a three-pointer that was answered by Wittenberg's Lewis Buzzard to tie the game at 49-49. Zinnerman grabbed a missed Tiger shot after a trey from Chase Haltom, then tipped in a missed shot by Ben Burkett to put Wabash in front 53-49. Zinnerman grabbed all seven of his rebounds and scored all four of his points over the final eight minutes of the contest while also adding an assist to his box score totals.
The Little Giants pushed the lead to 10 points in the closing minutes by outscoring Wittenberg 15-5 before a Tiger three-pointer with 31 seconds remaining to set the final score.
Wittenberg entered the contest with an eight-game winning streak while averaging 84 points and shooting better than 50 percent from the field in its last four contests. Wabash held the Tigers under 60 points for only the second time this season. The Little Giant defense limited Wittenberg to five three-point baskets and 21.7 percent shooting from beyond the arc. Wittenberg finished 24-of-58 from the field and 4-of-8 from the free throw line.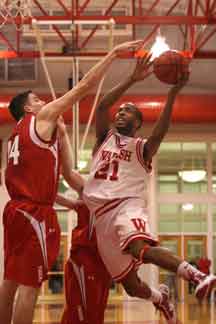 The Little Giants connected on 23-of-57 shots from the field (40.4 percent), 8-of-23 long range attempts (34.8 percent), but were just 10-of-18 from the free throw line.

Wes Smith led the Little Giants with 15 points, while Aaron Brock chipped in 13. Haltom added nine point, putting him 15 points away from reaching 1,000 for his career.

Chris Sullivan was the only Wittenberg (13-3, 5-2 NCAC) to reach double figures in scoring, finishing with 16 points. Mark Snyder grabbed six boards to pace the Tigers.

Wabash (10-5, 5-2 NCAC) travels to Oberlin for a Saturday afternoon conference tilt against the Yeomen.




Results: Wabash 64, Wittenberg 57 Game Stats