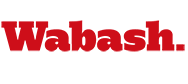 Little Giants Run Winning Streak to Five Games
by Jim Amidon

January 16, 2010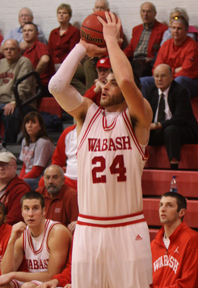 Aaron Brock and Wes Smith were determined to avenge December's ugly North Coast Athletic Conference loss at Denison. The duo combined for 41 points and 17 rebounds to lead Wabash to a 70-51, runaway victory over the visiting Big Red.
The Little Giants fell behind to the Big Red 15-0 in the first matchup on December 5, and eventually lost to Denison 78-71.
Saturday on Chadwick Court, Wabash pushed its winning streak to five straight and improved to 9-5 overall and 4-2 in the NCAC. Denison fell to 3-12 and 3-3 in league play.
Brock (right) buried two three-pointers, Ben Burkett had a slam dunk, and Smith sunk a three-pointer on a fast break to propel the Little Giants to a 17-4 advantage eight minutes into the game. Denison would get no closer than 10 points the remainder of the game.
"We got off to a better start than we did at their place," said Wabash Coach Mac Petty, whose team hosts a streaking Wittenberg Wednesday night at 7:30 p.m.
"Sometimes you win ugly games," said Petty. "We allowed Denison to shoot 56 percent in the second half, which is disappointing. But a conference win is always a good win."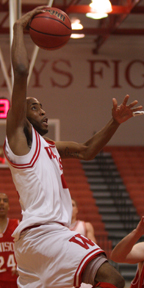 Brock continued his impressive play with 21 points and eight rebounds, hitting four-of-eight three-pointers. He's averaged 18.6 points over Wabash's five-game winning streak to push his season average to 13.4.
"Brock is really coming into his own," said Petty of his 1,000-point senior co-captain. "He's in good shape, his elbow has recovered from last year, and he's playing at the level he was at the end of his sophomore year. He gives us a great inside-outside threat, and our guys are finding him open."
Smith (left) was also impressive with another eye-popping stat line: 20 points, nine rebounds, two assists, a blocked shot, and a steal.
Senior guard Chase Haltom chipped in 10 points, two assists, and two steals.
"Aaron and Wes really compliment each other well, and Chase has been playing steady basketball for us. And I'm really happy with what the guys coming off the bench are contributing," Petty added.
Wabash blitzed Denison early and streaked out to a 12-2 lead less than six minutes into the game, forcing the Big Red to call timeout to regroup. A jumper and three-pointer by Smith made it a 17-4 edge.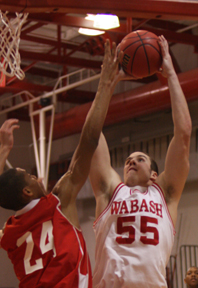 Josh Leuchtag sunk a three-pointer for Denison on the ensuing possession, cutting Wabash's lead to 10 points, 17-7, but the Big Red would get no closer the rest of the way.

The Little Giants would capitalize on a sloppy last few minutes of the opening half to push the lead to 18, 37-19 at the break.

Wabash didn't shoot well, hitting just 23-of-58 shots, but 14 offensive rebounds and a 43-28 edge on the glass were more than enough to ensure the victory.

Denison shot 42 percent in the game, but hit just 3-of-12 free throws. On the flip side, Wabash sunk 16-of-18 from the charity stripe.

In addition to his first-half dunk, Burkett chipped in five rebounds and four points, while point guard Brian Shelbourne had four points and five boards. Nick Curosh (right) hit all of his shots off the bench to finish with six points and three rebounds.

Wabash is out-scoring its foes by more than 20 points per game over the five-game winning streak, and the Little Giants have won seven of their last eight contests.

The Wittenberg Tigers visit Chadwick Court Wednesday night with a 13-2 overall record and 5-1 mark in the NCAC. The Tigers have won eight straight games, including Saturday's 10-point win at Allegheny.




Results: Wabash 70, Denison 51 Game Stats