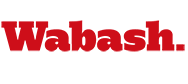 Brock, Smith Reach 1,000 Career Points
by Brent Harris

January 13, 2010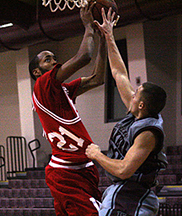 The two plays may not have been spectacular, but free throws by Wes Smith and Aaron Brock gave the two Wabash players their 1,000th career points Wednesday night. Smith finished with 23 points while Brock scored 11 in the Little Giants' 73-49 victory at Earlham.
The victory was the fourth in a row for Wabash --- the third straight North Coast Athletic Conference win. It was the first road win of the season for the Little Giants after starting 0-5 in non-neutral road contests.
View photos from the game
here
.
Smith (left) entered the game with 991 career points and quickly passed the 1,000-point mark, scoring 19 first half points to boost Wabash to a 36-28 halftime lead. Smith scored three early baskets, then went to the free throw line with 9:32 left in the first half, sinking both shots to reach 1,000 points.
Brock went scoreless in the first half before reeling off three baskets in the first seven minutes of the final period. A foul by the Quakers with 12:17 showing on the game clock led to two free throws for the senior forward. He canned both, scoring his 1,000th career point on the first attempt.
"Scoring 1,000 points is pretty special," Smith said. "It's pretty special to do it the same night that Brock scored 1,000 career points too. All in all it was a great evening."
"It was nice to get the 1,000 career points out of the way," Brock (below right) added. "It was fun to do it the same night that Wes got to 1,000, but we both wanted to make certain we got the win. We've got to stay in the top of the conference race and we want to keep this winning streak going. That was really more important, although the 1,000 points is nice."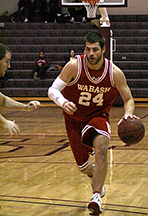 The Little Giants took a 5-0 lead to start the contest, but went cold midway through the first period. Earlham used key three-point baskets in the opening period to take two one-point leads before Wabash closed out the half with a 7-0 run for an eight-point advantage at the break.

Wabash exploded offensively in the second half, outscoring the Quakers 25-12 over the first ten minutes of the second half. The Little Giants held Earlham to 21 total points in the final period and 8-of-31 shooting from the field for 25.8 percent. Wabash shot 28-of-51 (54.9 percent) from the field for the game, while Earlham was 15-of-53 (28.3 percent).

Chase Haltom added 16 points, connecting on 6-of-11 shots. He added a game-high four assists. Wabash finished with 10 assists as a team to go with 11 steals and five blocked shots. Ben Burkett was the fourth starter to score in double figures, finishing with 10 points.

Earlham (3-11, 1-5) was led by AJ Sutherlin's 13 points.

The Little Giants (8-5, 3-2) returns to Chadwick Court for Saturday for a home rematch against Denison University. The Big Red defeated Wabash 78-71 earlier this season at Denison. Tipoff Saturday is set for 3 p.m.

Photos by Susan Albrecht.




Results: Wabash 73, Earlham 49 Game Stats