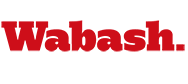 Family Day Concert Is Saturday Night
by Public Affairs Staff

October 7, 2009

Five ensembles from the Wabash College Music Department will take the stage Saturday night for the annual Family Day Concert. The public is cordially invited to attend the performance, which begins at 8 p.m. in the Lewis Salter Concert Hall in the Fine Arts Center.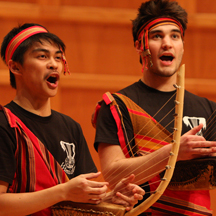 Musical ensembles performing include Wamidan, Woodwind Ensemble, Jazz Band, Brass Ensemble, and the Wabash College Glee Club.
Wamidan, under the direction of Professor James Makubuya, will present two numbers. The first, Awinja Winja, is a Ugandan folk song performed by the adungu ensemble. "The ensemble, comprising four different adjungu (bow harps), is unique to East Africa," said Makubuya. "The theme of the piece is 'rejoice and be happy, don't let your mind hold on to the unending worldly worries.'"
Wamidan's second piece is Aije, another Ugandan folk dance of the Acholi people that is performed using gourds and drums. The dance celebrates the beginning of the harvest season.
The Woodwind Ensemble, directed by Professor Vanessa Rogers (right), will play three pieces: W.A. Mozart's Allegro from Sonata K.279, Two Minuets by G.P. Telemann, and Divertimento by Joseph Haydn.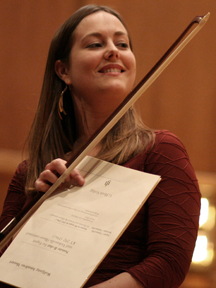 "The Woodwind Ensemble has more than doubled this year from four men to nine," said Rogers. "We now have a fuller group of instruments from which to choose, including oboe, bass clarinet, and saxophone. We are thrilled to have three new freshman performers, all of whom are very talented and already are adding a lot to the ensemble."
Professor Peter Hulen directs the Brass Ensemble, which will play two short dance movements, a Bourree and a Minuet, both from George Handle's The Fireworks Music, along with Scott Joplin's The Entertainer.
The Jazz Band will lead off with a Miles Davis piece called Freddie Freeloader, a piece arranged by the group's director, Steve Robinett. "Freddie Freeloader has proven to be one of Davis' most enduring compositions and the album "Kind of Blue" has become the best selling jazz album ever — and celebrates its 50th anniversary this year," said Robinett.
The Jazz Band will also perform a Robinett arrangement of Just Friends, a jazz standard written in 1931 by John Klenner and Sam Lewis.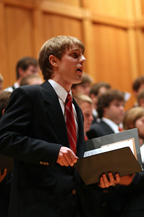 The 47-member Wabash College Glee Club will present a sample of "musical genres that have inspired, and continue to sustain, male chorus performance," said director Richard Bowen.
"The audience will be invited to join their voices with the Glee Club as it marches into Salter Concert Hall on Wabash College's favorite song, Old Wabash," said Bowen. "The group will perform an arrangement of the hymn Be Thou My Vision in memory of Glee Club alumnus Dick Ristine '41. Lay Up Your Treasures in Heaven is a lively spiritual, featuring Ben Harvill '10 (left) as tenor soloist. The poetry of Robert Burns is set as a lyric ballad in A Red, Red Rose — followed by Edvard Grieg's stirring affirmation of men's music-making, Brothers, Sing On."
The concert is free and open to the public.