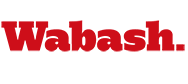 Little Giants Improve to 2-0 at Chicago
by Howard W. Hewitt

September 19, 2009

CHICAGO, IL - Tommy Mambourg and Kody LeMond had the key statistics for the second straight week as the Little Giants (2-0) won at Alonzo Stagg Field at the University of Chicago, 48-10.

See photo albums here, here, here, here, here, and here. The Wabash crowd outnumbered the Chicago hosts about 2-1 in the stands. A big group of alums, parents, and friends enjoyed a tailgate in a park across the street from the stadium before kickoff. See a photo album here.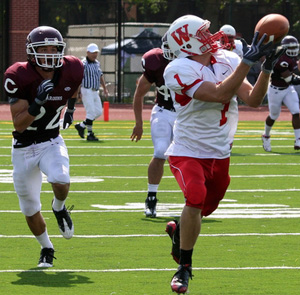 Mambourg ran for 119 yards and a touchdown then caught a Matt Hudson pass for a score. LeMond caught just three passes but two went for touchdowns. His second catch came midway through the second period on a 77-yard bomb.
"Coach called a little double-move route on the outside and I'd been wanting to run one the whole game," LeMond said of the long ball. "I saw he called it and I was real excited. Hudson threw a great ball. Matt, the best thing about him I think, besides his vision, is he throws a great deep ball. Fortunately I was able to catch up to it."
LeMond's catch put the Little Giants up 31-10. The junior opened Wabash's scoring with a 34-yard catch. Mambourg caught a Hudson throw from 18 yards out and Spencer Whitehead nailed a 27-yard field goal all in the first period.
Chicago scored its only points of the game in the first period. After a Hudson interception, Dee Brizzolara caught a 33-yard throw from Marshall Oium and Jeff Sauer hit a 27-yard field goal.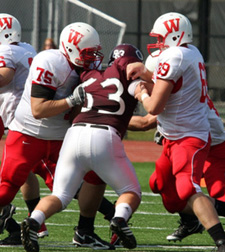 Wabash dominated from there out. Mambourg opened the second quarter with a 1-yard plunge, LeMond caught the bomb, and then Wes Chamblee caught a pass for a six-yard score, 38-10.
"They started playing a little more aggressively in that second quarter — blitzing and playing a lot more man to man," Coach Erik Raeburn said of the first half. "We were fortunate we caught them on a couple of them.
"But we're just a little disappointed with our consistency on offense. It was like screw up, screw up, and then hit a big play all day long. I never felt like we had a real good rhythm but we made some big plays when we had to."
Spencer Whitehead had the only little Giant score in the third quarter, this one from 23 yards.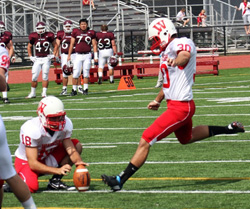 The junior kicker has opened the season 14-of-14 on extra-point kicks and hammered both field goals Saturday for a strong start.
"I've worked really hard with 6 a.m. workouts and I've put on 15 pounds of muscle," Whitehead said. "I was hoping for big improvement this year."
Whitehead hit a big kick to win at Wittenberg last year, and while that helped his confidence he said the hard work is what's really made the difference. "Hard work helps my confidence. I kicked a lot inside and I just tried a whole bunch of new things to get comfortable as a junior."
His coach is comfortable with the effort and has taken notice.
"It's not just like he made that kick in the Wittenberg game and then coasted into this season," Raeburn said. "The whole off-season I'd drive by the field on Saturday or something and I'd see him out there kicking. When weather was real bad he was in the fieldhouse kicking into the net. His kickoffs have been 100 times better than last year. He has another 10 yards on those things. He's played well for us so far for sure."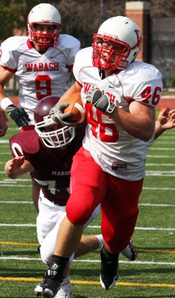 Freshman Kyle Stevens got his second touchdown of the season, a 22-yard score in the fourth quarter, 48-10.

The Little Giants entered the game knowing they would have to contain the Maroon's outstanding running back Tommy Parks. Parks carried the ball 14 times for just 46 yards.

"I think our D-line did a good job of maintaining their gap and we're pretty good at linebacker too," Raeburn said. "I think it was those front seven guys who did a good job today controlling the line of scrimmage because he's hard to tackle. "We didn't tackle real well today, but those front seven guys did a pretty good job."

Linebacker Bryan Watson and Defensive back Jake Martin led the way with 7 tackles apiece. Matt Kraft added six stops for Wabash. The Wabash defense was credited with nine tackles for lost yardage.

The Little Giants piled up 469 yards on offense to Chicago's 235. Mambourg's 119 yards, on 27 carries, gave him a unique accomplishment. No Wabash runner had managed back-to-back 100 yard games since 2003. He had 120 yards in the season-opening win over Denison.

Hudson had an efficient day with 12 completions on 22 attempts for 273 yards. He threw four touchdown passes with two interceptions. LeMond, Chamblee, and Brady Young all caught three passes. LeMond's two TDs, for 122 yards, moved him into a tie at seventh place for career touchdown passes with 18 on the Wabash all-time records list.

Wabash is home Saturday hosting Kenyon for Homecoming. Kickoff is at 2:00 p.m.

In photos: Top left, LeMond hauls in a Hudson bomb for 77-yard score. At right, Skip Tokar and Nick Durm open up some running room. Middle left, Whitehead perfect on another PAT. Bottom right, Stevens gets the score.




Results: Wabash 48, Univ. of Chicago 10 Game Stats