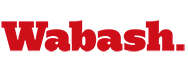 Report Singles out Wabash for Commitment to Teaching
by Howard W. Hewitt

August 25, 2009

Wabash College has been singled out by the U.S. News and World Report's America's Best Colleges 2010 guide for its "Strong Commitment to Teaching" and in the "Great Schools, Great Prices" category.

In a new ranking that attempts to highlight the colleges where teaching is emphasized, U.S. News surveyed college presidents and academic deans and asked them to single out peer schools "where faculty has an unusually strong commitment to undergraduate teaching – schools that emphasize this aspect of academic life."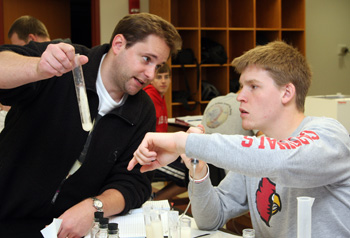 "It is especially gratifying for Wabash to be recognized by our peers for our unusual commitment to teaching," Wabash President Patrick White said.
Wabash College was 14th on the list that recognized 25 schools.
"Anyone who knows Wabash knows that high engagement in teaching and learning inside and outside the classroom permeates life at Wabash," said President White. "Whether in laboratories, in small group discussions, in late afternoons in faculty offices, in conversations over dinner, faculty and students are constantly joined in the grand conversations that are the heart of our liberal arts education."

Wabash has long been known and recognized for its commitment to teaching. The Princeton Review noted Wabash in its
Best 371 Colleges
guide. The guide not only gave Wabash a 98 academic rating (out of 99), it ranked Wabash professors the third "Most Accessible Professors" in the country.
New professors go through a week-long orientation to learn the Wabash approach to liberal arts. Before the start of each school year one day is set aside to celebrate the scholarship of the faculty. This year a new workshop was held on reading, hosted by the College's Teaching and Learning Committee.

"Faculty come to Wabash for this kind of engagement, and through this teaching students forge bonds with faculty that last for the rest of their lives," President White said.
Wabash was ranked 19th on the U.S. News America's Best Colleges guide in the "Great Schools, Great Prices" category. Wabash College provided 72 percent of its students grants based on need in 2008. Only two colleges on the Top 40 list offered a higher percentage of financial support.
The formula used to determine the list compares a school's academic quality, based on the 2010 overall ranking, to the net cost of attendance for a student receiving the average amount of need based financial aid. "The higher the quality of the program and the lower the cost, the better the deal." The report said. "Only schools ranked in or near the top half of their categories are included because we work on the premise that the most significant values are among colleges that are above average academically."
Wabash was 54th on the 2010 list of Best National Liberal Arts Colleges. The report surveys and provides rankings of 1,400 private and public colleges and universities.