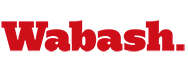 Aouad's Hard Work Leads to Spot at Nationals
by Brent Harris

May 22, 2009

The race won't begin until 3 p.m., but the hard work put in all season long by junior Emmanuel Aouad has already paid off.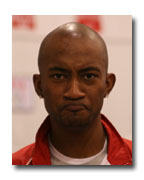 Aouad (right) will compete at the NCAA Division III Outdoor Track and Field National Championship Meet Friday afternoon in the 110-meter hurdles. He is the first Wabash athlete sprinter to compete at Nationals since John Archie '96 ran in the 400 hurdles as a senior.
Aouad didn't have spot in the championship meet until he reached the provisional qualifying mark last weekend at the North Central last chance meet. He broke the Wabash record in the event by posting a finals time of 14.68.
The record-setting time happened Friday night in Chicago, but Aouad did not find out he had qualified for the Nationals until later that evening.
"I was waiting for the official times to be posted, but the weather was terrible," Aouad said. "My fiancé was waiting in the rain with me. We decided to head to her father's house in Naperville. We were getting ready to leave when (teammate) Wes Chamblee called and told me I reached the qualifying mark.
"I really didn't feel any pressure going into the meet to qualify. That's the same attitude I'm going into the Nationals with. It's still 110 meters. Nothing has changed in the race. I'm just running against really good competition. My goal is to be an All-American. I'll run my hardest. If I do that, I won't be disappointed regardless of the outcome."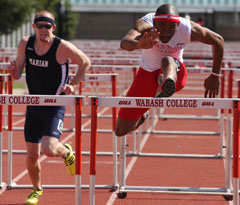 Running for head coach Clyde Morgan --- in his first season at the helm of the Wabash program after taking over for retired legendary coach Rob Johnson --- Aouad has learned two different approaches to train for this moment.

"Morgan taught me to work hard and don't whine about the tough times," Aouad said. "Everyone goes through the pain during training. When you look back at the end of the season, you realize it wasn't so bad.

"Johnson taught me self-motivation. He guided you along the way, but made you responsible for your final results."

Morgan understands the difficulty Aouad faced with a coaching change midway through his career.

"I'm very proud of him," Morgan said. "I've been in that same position with a coaching change as you're working to earn a spot at Nationals. I'm impressed with the way he's adjusted. He let his hair down and trusted me from day one. He came to work every day and did everything I told him to do. He deserves this success after all his hard work."

Aouad's hard work is far from over. He will run in the third heat in lane five next to the fastest qualifier in the event, Trinity University's Todd Wildman. The senior posted the top time of the year in the 110 hurdles at 14.16. The top-eight times over the three heats will advance to Saturday's finals race at 1:45 p.m., in addition to earning All-America honors.

"I'm already happy to have made the race," Aouad said. "In 2008 I thought I had made the Indoor Nationals, but my time got bumped out toward the end of the season. Now I know I'll be at the starting line Friday. There is no pressure on me now. I just have to go out and run."




For more information see: