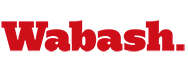 Wabash Relaxed Heading Entering Tournament
by Matt Wilson
The Journal Review

May 1, 2009

Senior Jake Thomas said this year's Wabash baseball team has thrived off a goofy, laid-back mentality. The Little Giants have been in many big games this spring and have yet to let nerves get the better of them.

Thomas anticipates the players will bring that same relaxed attitude as the Little Giants begin play in the North Coast Athletic Conference Postseason Tournament this weekend at Wooster.

"You are not going to see us make any silly plays just because we are nervous, if we make mistakes, they are going to be because we are being too aggressive," Thomas said. "The difference between this team and teams in previous years is we know that baseball is a game and it's a fun game. And we are just going to have some fun while we're out there."

The Little Giants, the second seed out of the NCAC West Division, take on the top seed in the NCAC East Division in two nine-inning games starting at noon Saturday.

If necessary, there will be a nine-inning game noon Sunday to decide who will advance to the conference tournament finals the following weekend at Wittenberg.

Wabash (22-17) makes its first trip to the postseason tournament since joining the NCAC in 2000. The Little Giants carry plenty of momentum into the tournament after beating DePauw in the second game of a doubleheader Wednesday. After losing 2-1 in the opening game, Wabash won the second game 3-2, ending a 19-game losing streak to its rivals from Greencastle. The last time Wabash defeated DePauw was in 1999.

The Little Giants have won 14 of their last 17 games.

"At first we were a little frustrated because we felt like we should have won two games at DePauw," Thomas said. "But then when we thought about it, it had been 10 years since we beat DePauw, so to get that second win was a good win for us. It was a good stepping stone for us headed into the weekend."

Rebounding to get the second win in Wednesday's doubleheader, the Little Giants again showed they can perform in tense, big games.

The Little Giants went into a four-game series at Denison knowing taking three of four games from the Big Red would be a big positive in their quest toward making the conference tournament. After sweeping Denison April 18, the Little Giants fell to the Big Red 5-4 in the opening game of the April 19 doubleheader. In what turned out to be the biggest game of the series, Wabash won the fourth game 8-2 to take three of four from Denison.

Wabash also split a four-game series with conference-champion Ohio Wesleyan on March 21-22.
"The more relaxed we are, the better off we are going to be," Wabash coach Cory Stevens said. "We have been in big games all season and we haven't felt the pressure. We are not going to be intimidated by Wooster, but that is not to say that we don't have a ton of respect for them. But that is the benefits of playing Butler and Purdue, we feel like we can play with anyone."

With Wooster having a team batting average of .353, Stevens pointed to starting pitching as the biggest key to the weekend series. Pitching has been one of the big keys during Wabash's success down the stretch.

Wabash limited DePauw to a combined six hits in Wednesday's doubleheader. Stevens was able to give all of his weekend pitchers work in the second-game win. Senior Andy Weeks started and went two innings, allowing no runs on one hit.
Classmate Mike Korfhagen pitched the next two innings, allowing no runs on one hit while taking the win. Brian Van Duyn pitched 1-2/3 innings and allowed two earned runs on two hits.

Stevens said he will go with his normal rotation this weekend, with Weeks starting game one, Korfhagen game two and Van Duyn game three. Crawfordsville graduate
Andrew Swart, Wabash's No. 4 pitcher during conference season, will be used as a mid reliever.

"We are going to use Andrew as much as we need to on Saturday, which makes him more important than if he was our third starter," Stevens said. "We are going to need a mid-reliever, so he's going to be big for us."

Weeks, Van Duyn and Korfhagen come into the weekend with a combined
9-8 record and have combined to strikeout 102 batters.

Swart has a 4-1 record and 4.10 earned-run average.

"Swart coming in relief is really going to help us, because these are nine-inning games instead of the normal seven-inning games," Weeks said. "He can come out of the bullpen and pitch two or three innings without getting gassed. And he has been pitching well lately."

Wooster comes in with a 31-7 record, with only one of those losses coming at home. The last time Wabash and Wooster met was in a three-game series in 2007 when Wabash's senior class was sophomores.

The Scots entered the final game of the series a perfect 27-0 and ranked No. 1 in the country. The Little Giants, however, ended Wooster's winning streak with a 3-2 victory.

"For the guys this season that were part of that team, that gives them confidence headed into the weekend,"
Thomas said. "We were able to beat them at their place when they were 27-0, so we know it can be done."