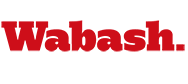 Little Giants Celebrate Senior Night With Blowout Win
by Brent Harris

February 18, 2009

Senior players Mark Turpin and Brian Maloney, along with senior manager Joel Patterson, were honored prior to the start of Wednesday night's final home game for the Little Giant basketball team. That celebration kicked off a 19-4 start for Wabash on the way to a 68-43 win over Wittenberg at Chadwick Court. (View photos of the Little Giants' win here and photos of the Senior Night events here.)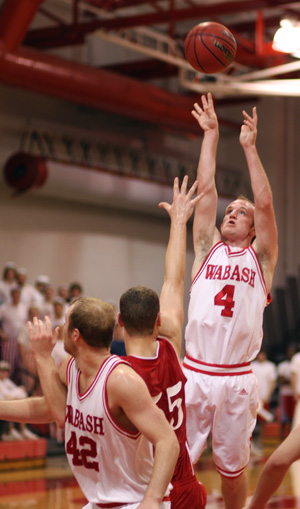 The two seniors combined for nine points, eight rebounds, two blocks, and two assists in their final appearance before a boisterous home crowd that kept the energy level high all night.
Turpin made the most of his first career start, grabbing the first rebound off a missed Wittenberg three-pointer. Four minutes later with Wabash out to a 10-2 lead, Turpin nailed a shot under the basket in traffic and hit the free throw to score his three points for the evening. His only miss of the night from the field fell right into the hands of freshman Brian Shelbourne, who put it right back in the basket for two of his five points. Turpin grabbed two more boards and played solid defense in the low post to help hold the Tigers to 28.1 percent shooting from the field in the game.
Maloney swatted away two shots down the stretch while scoring six points and grabbing five rebounds. He was 2-of-3 from the field and 2-of-2 from the free throw stripe.
The seniors were not the only ones making key contributions. Junior Chase Haltom drilled shot after shot from long range, scoring a game-high 22 points with six three-pointers. Wabash connected on 23-of-52 (43.4 percent) shots from the field while hitting 12-of-27 (44.4 percent) treys.
The Tigers would never get closer than 16 points in the first half and eventually trimmed the lead to 14 with 6:31 left in the game. Wes Smith responded with a drive that drew a foul from John Lowther. Smith's two free throws accounted for two of his 16 points and also put Wabash in front 57-41. Derek Bailey stole the ball from Lowther on the next possession, with Smith eventually finding Maloney under the basket for an easy hoop. That started a 9-2 run over the final six minutes to give Wabash the victory.
Wabash owned every statistical category except rebounding. The Little Giants held Wittenberg to 5-of-23 from beyond the arc for 21.7 percent. Wabash had 14 assists, led by Shelbourne with five, compared to four for the Tigers. Wittenberg grabbed five more boards than Wabash with a 40-35 edge.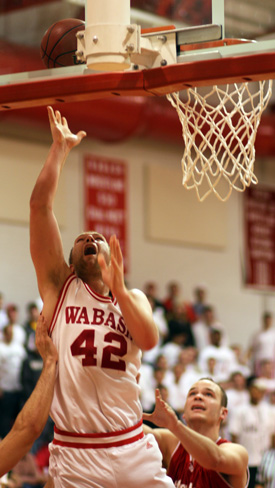 Wittenberg (12-12, 8-7 NCAC) was led by Kevin Murray with eight points, held well below his season average of 14.3 points a game. Mark Snyder and Seth Hill each added six points.

The Little Giants improve to 11-12 for the season and 6-9 in the NCAC. The victory guarantees Wabash a place in next week's NCAC Men's Tournament. The Little Giants enter their final regular season Saturday at Denison in a tie with Allegheny College for sixth in the league standings.

Photos - (Top right) Chase Haltom drills one of his six three-pointers on the way to a 22-point night to lead Wabash in a 68-43 win over Wittenberg.

(Bottom left) Senior Brian Maloney scores his last basket at Chadwick Court. He and fellow seniors Mark Turpin and Joel Patterson were honored prior to the tipoff of Wednesday's game.

(Main page) Mark Turpin scored three points, grabbed three rebounds, and had one assist in his first career start for the Little Giants.




Results: Wabash 68, Wittenberg 43 Game Stats