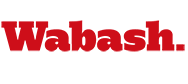 Wabash Basketball Game at Wittenberg Postponed
by Brent Harris

January 28, 2009

Due to inclement weather and travel conditions, Wednesday night's North Coast Athletic Conference men's basketball game between Wabash and Wittenberg has been postponed.

The Little Giants were scheduled to play at 7:30 p.m. tonight in Springfield, Ohio. The game is now scheduled to be played Thursday, January 29 at 7:30 p.m. at Pam Evans Smith Arena.