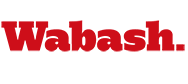 Brown '83 to Give Baker U Commencement Address
December 12, 2008

Recently retired Baker University Professor Tony Brown '83 will give the Commencement address for fall graduates of Baker on Sunday, December 14 in Baldwin City, Kansas. Brown will address the undergraduates in the College of Arts and Sciences, School of Education, School of Nursing, and the School of Professional and Graduate Studies.

Tony Brown has been a professor at Baker since 1990. He received his bachelor's degree from Wabash and was elected to Phi Beta Kappa. While at Wabash he was a member of Lambda Chi Alpha. He earned his master's and doctoral degrees in psychology from Vanderbilt University.

Founded in 1858 as the first university in Kansas, Baker is a private liberal arts college with 4,000 students in 40 undergraduate degree programs and three graduate programs.

During his tenure at Baker, Brown has received several teaching awards, including the Distinguished Faculty Award, the Most Outstanding Professor Award and the Kopke Award for Distinguished Teaching. He has served as the director of the First Year Student Program, director of the University Honors Program, and as chairman of the psychology department.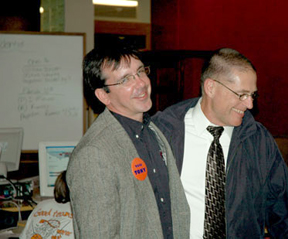 He has been active in the Baldwin City community, serving on the City Council, as vice president of the Black Jack Battlefield Trust, and in numerous offices in the Baldwin City Lions Club. Brown retired from full-time teaching in the spring of 2008 to pursue other professional opportunities. At the time of his retirement, he was inducted into the Baker University Academic Hall of Fame.
Those "other professional opportunities" included a successful run for political office — he is currently State Representative-Elect for the 10th District of the Kansas House. (Brown is pictured at an election night party — photo courtesy of Baker University.)
"I'm hoping we can make a good state education system even better," Brown told the Lawrence Journal-World Journal at the time of his election. "I'm hoping to help improve the healthcare system. I'm hoping to help come up with an energy plan that's environmentally sound."
More on Brown's election run for the Kansas House can be found at the Lawrence Journal-World.