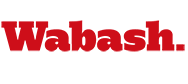 New Opportunity for Students Interested in Business
by Jim Amidon

December 9, 2008

Thanks to a $375,000 grant from Lilly Endowment Inc., students attending Wabash College will now have the opportunity to take part in the newly developed Business Leadership Program.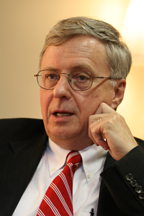 Wabash President Patrick E. White (right) announced the grant from Lilly Endowment, which will be matched with $1.52 million in institutional funds to develop and sustain the various elements of the Business Leadership Program for a period of five years.
"The excellent liberal arts education of Wabash College has long provided students a valuable springboard for distinguished careers in every walk of life," said President White. With this generous new grant from Lilly Endowment, Wabash will be even more effective in preparing students for exciting and meaningful business careers in a global economy."

Led by program director Angie Cook-Smith, the Business Leadership Program will knit together a number of programs that were developed in an earlier Lilly Endowment Initiative to Promote Opportunities through Educational Collaborations grant. The Business Leadership Program consolidates six current academic courses (the Business Sequence) with co-curricular and career development experiences to create a permanent, marketable, coherent, liberal arts approach to developing graduates with business and leadership skills.
"Close to 20 percent of the students who consider Wabash are interested in a business career," said Dean of Admissions Steve Klein. "The Business Leadership Program demonstrates the College's commitment to prepare them to succeed in the challenging times we live in.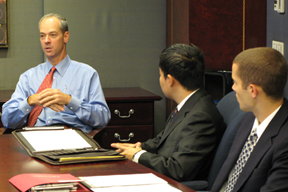 "Through the accomplishments of our alumni, we've known how well the Wabash liberal arts experience prepares young men for careers in business," added Klein. "The program will allow the College to underscore its message that the liberal arts provides the best foundation for a successful business career. So it's my hope that many young men looking at business majors at other colleges will come to see this opportunity as getting the best of both worlds."
The program has been developed based on research conducted through the Center of Inquiry in the Liberal Arts at Wabash that determined what characteristics businesses were seeking in their leaders, and how a liberal arts campus might enhance the development of those characteristics in Wabash graduates.
The Business Leadership Program will be administered by Angie Cook-Smith in the Schroeder Center for Career Development, working closely with faculty and the Advancement Office, and overseen by an Advisory Committee that admits students to the program and tracks their progress.
Keolah Widdows, who teaches economics and holds the John H. Schroeder Interdisciplinary Chair in Economics, has been involved in the development of many of Wabash's programs designed to prepare graduates for careers in business.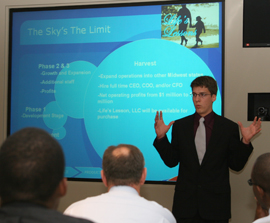 "I see the Business Leadership Program as working along with Scott Crawford in the Schroeder Center to administer existing programs like the Summer Business Immersion and Marketing Immersion programs and internships, and to develop creative new programs and workshops that will complement the students' academic work," said Widdows. "Our goal is to make sure that Wabash students are at least as attractive to employers as students coming out of undergraduate business programs."
Students graduating from the Wabash Business Leadership Program will:
• Complete a liberal arts major and minor, along with six courses currently comprising the Business Sequence (three in economics, two in accounting, and one in English);
• Study the fundamentals of rhetoric composition and delivery; the research, composition, and delivery of ceremonial and persuasive speeches; introductory principles of reasoning, argumentation, and rhetorical criticism; and the use of electronic media in public presentations;
• Participate in an eight-week summer, non-credit Introduction to Entrepreneurism course, co-taught by staff and alumni, using case studies and team projects to learn about the spirit of entrepreneurism, leadership qualities, project management, opportunity analysis, business plans, legal issues, marketing, presentation skills, networking, preparation of financial statements, and financing;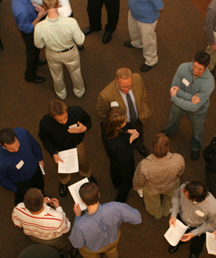 • Take a spring break marketing immersion trip, a fast-paced introduction to the concepts and businesses involved in marketing, team-taught by alumni in marketing and advertising agencies;
• Complete at least one eight-week summer internship;
• Participate in at least four industry Focus Group sessions (dinners with alumni in specific career areas, with individualized conversations about career paths);
• Participate in Schroeder Center for Career Development programs, such as the Job Search Boot Camp, mock interviews and required seminars on interviewing, resume writing, and business etiquette;
• Participate in one networking trip to Chicago, New York, or various Indiana cities;
• Have opportunities for job shadowing (externships) with alumni to provide insights into an area of interest, job type, or organization; and
• Participate in the Wabash LEAD (Linking Education and Alumni Development) Program which emphasizes leadership, goal setting, exploring challenges, recognizing strengths and weaknesses, and peer coaching.
A committee of Economics Department faculty, staff involved with these programs, alumni and student representatives (the WBLP Advisory Committee) will review applications and interview participants for entry to the program, as well as monitor student progress through the program.
"In my opinion, the program does a very nice job of providing a meaningful business experience that complements the liberal arts education students receive at Wabash," said Wabash Economics Professor Frank Howland. "It provides students with a visible roadmap to follow, encourages alumni-student interaction, and facilitates hands-on learning through the immersion programs and internships."
In photos: Top left — Alumnus Jay Allen '79, Managing Director of Banc of America Securities, talks with students on an immersion trip to New York City; middle right — A Wabash student makes a presentation in the Summer Business Immersion Program; bottom left — Students network with alumni at an on-campus event.