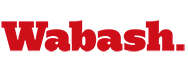 Wabash Plays at Case this Saturday
by Jim Amidon

November 16, 2008

The Wabash College football team will make its second straight appearance in the NCAA Division III playoffs this Saturday, when the Little Giants travel to Cleveland to meet Case Western University.

The game will be played at Case Field in Cleveland, and will begin at 12:00 p.m. Fans not traveling to Cleveland can catch the game on WNDY radio at 91.3 FM or through the Internet on Teamline.

Tickets are $8 for adults and $4 for students and children. There will be no advanced sales. Ticket sales will begin at 10:30 a.m. Saturday morning at Case Field. Wabash tailgate information will be available later this week.

Case completed its second straight 10-0 season last weekend with a 17-0 win over Washington University, which gave the Spartans their second straight University Athletic Association title and second straight trip to NCAA playoffs.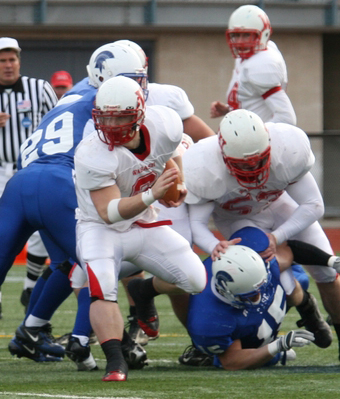 It's also the second year in a row the Little Giants and Spartans will clash in Cleveland. Last year the two teams met in the second round of the NCAA playoffs with Wabash winning 38-23 behind Evan Sobecki's (right) 113 rushing yards and Matt Hudson's 300-yard, five-touchdown passing performance.
The Wabash defense hammered the Case running game last year, throwing the team for minus-29 rushing yards on 11 carries. Wabash posted five sacks in the game, as well (Jared Lange pictured below left). Meanwhile, the Little Giant offense scored on its first two possessions and led 21-0 before Case got on the board.
Wabash and Case look very similar heading into this year's tilt. Both teams boast balanced, high-scoring offenses. Case averages 40 points and 416 yards per game with a great split between rushing (175 yards per game) and passing (241 yards per game).
Senior quarterback Dan Whalen leads the Spartans. He averages 219 yards through the air and has tossed 17 touchdowns against just four interceptions. He's a mobile quarterback, too, rushing for 30 yards per game and four touchdowns on the season.
Whalen's top targets are receivers Zach Homyk (42 catches, 546 yards, 3 TDs), Shaun Nicely (33-540-9), and Ryan Kolesar (24 catches, 17 yards-per-reception). Nicely had nine receptions for 145 yards against the Little Giants last year.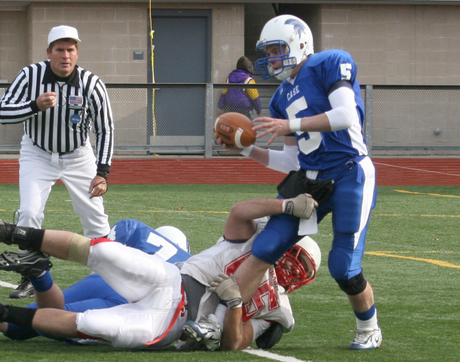 Like Wabash, Case spreads the running chores evenly among a stable of good running backs. Five players have 57 or more carries this year, including ground-leader Greg Meyer, who averages 43 yards per game with five touchdowns. Billy Deitman (36 YPG, 3 TDs), Derrick Bush (37 YPG, 2 TDs), and Corey Checkan (9 rushing TDs) lead the way.
The strength of the team appears to be its defense, which holds opponents to 276 yards and 13 points per game with 16 interceptions and 11 fumble recoveries.
The Spartan defense is big, fast, and physical, and is led by junior linebacker Jeff Brown, who has 79 tackles, 14.5 tackles for loss, three sacks, and two interceptions. Fellow junior linebacker Less Sasala has 68 tackles and six tackles for loss, while Mike Pelyak and Jake Mey have 55 and 52 tackles, respectively.
Perhaps the most exciting player is freshman Dale English, who has posted 8.5 sacks and 13 TFL in his rookie season. As a team, Case has 27 sacks on the year.
Junior defensive back Bobby Bott has taken two of his seven interceptions back for touchdowns, while Jeff Brown and Ben Chlebina each have interception returns for scores.
Because of the UAA and NCAC scheduling contract, Wabash and Case have played virtually identical schedules this year. The two teams have defeated NCAC foes Kenyon, Denison, Wooster, Ohio Wesleyan, and Hiram, as well as UAA opponents Chicago and Washington.
Wabash and Case are part of the eight-team "North Central" bracket. The winner of the Wabash-Case matchup will face the winner of the Wheaton (8-2) vs. Trine (10-0) tilt.