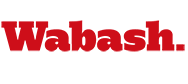 What's Happening at Wabash College – December
by Karen Handley

November 21, 2008

This monthly calendar is for the purpose of letting you know What's Happening on the campus of Wabash College. Unless otherwise noted, all events are free and open to the public.

Continuing – Art Exhibit: "Kristen Wilkins: Time is Eternity" The exhibit is at the Eric Dean Gallery of the Fine Arts Center, 510 S. Grant Ave. Gallery hours are Monday through Friday from 9 a.m. to 5 p.m. and on Saturday from 10 a.m. to 2 p.m. The Exhibit continues through December 12.


Tuesday, December 2
7:30 p.m., Talk by Jeremy Bird, Korb Classroom, Fine Arts Center
A key Barack Obama political organizer will be on campus Tuesday to talk about his role in the President-Elect's campaign. Jeremy Bird '00 served as a key organizer in South Carolina, Pennsylvania, and Ohio for the Illinois Senator. Bird's evening talk is being sponsored by the Wabash College Political Science Department and the student newspaper, The Bachelor.

Friday, December 5
12 p.m., Wrestling — Indiana Little State, Chadwick Court, Allen Athletics and Recreation Center
The Little Giants serve as the host site for the 2008 Little State Wrestling Tournament December 5-6 at Chadwick Court. Free and open to the public.

8 p.m., Visiting Artists Series presents Fenix de los Ingenios, Salter Hall, Fine Arts Center.
Fenix De Los Ingenios is an early music ensemble devoted to Hispanic literature and music. They specialize in Hispanic colonial music, promoting interest in early Spanish literature and music, and their influences abroad in the Spanish and Portuguese colonies. Free tickets may be reserved by return e-mail at boxoffice@wabash.edu or by phone at 765.361.6411

Saturday, December 6
9 a.m, Wrestling — Indiana Little State, Chadwick Court, Allen Athletics and Recreation Center
The Little Giants serve as the host site for the 2008 Little State Wrestling Tournament December 5-6 at Chadwick Court. Free and open to the public.

Sunday, December 7
7 p.m., Chamber Orchestra Concert, Salter Hall, Fine Arts Center.
Under the direction of Wabash music instructor, Alfred S. Abel, the Wabash College Chamber Orchestra will perform works by Handel, Schubert, and Debussy. (No Tickets required)

Tuesday, December 9
8 p.m., Kwanzaa Program, Korb Classroom, Fine Arts Center.
The Malcolm X Institute of Black Studies cordially invites everyone to join them as they conduct their annual Kwanzaa Program. Free and open to the public.

Wednesday, December 10
41st Annual Christmas Festival of Music and Readings, Pioneer Chapel, 8 p.m.
The festive program is an opportunity for college and community to come together in a traditional service of readings from the Old and New Testaments, along with a wide range of musical offerings. (No Tickets required)

December 10-12
8 p.m., The SantaLand Diaries, Experimental Theater, Fine Arts Center
Theater Professor James Phillips will take to the stage again this year in a reprisal of his one-man show The SantaLand Diaries. Phillips will perform the hilarious take on the holidays Wednesday through Friday, December 10-12. Tickets are free to the public, but reservations are encouraged due to limited seating. Contact the box office by email or phone (361-6411) to reserve your seats. The SantaLand Diaries has adult content and is not suitable for children.

Friday, December 12
6 & 8 p.m., Basketball—Pete Thorn Tournament, Chadwick Court, Allen Athletics & Recreation Center

Saturday, December 13
1 & 3 p.m., Basketball—Pete Thorn Tournament, Chadwick Court. Allen Athletics & Recreation Center

Sunday, December 14
7 p.m., The Crawfordsville Community Chorus presents Ralph Vaughan Williams' The First Nowell, Pioneer Chapel.
The work, adapted from medieval nativity plays with music composed and arranged from traditional tunes, features the chorus, soloists, spoken parts, and chamber orchestra. [No tickets required]
---

This monthly calendar is for the purpose of letting you know What's Happening on the campus of Wabash College. In celebration of the arts at Wabash, admission to all events on this year's Visiting Artists Series and Theater productions are FREE. However, you must reserve your FREE tickets at the Fine Arts Box Office before attending Visiting Artists Series and Theater productions.
Tickets are available from the Fine Arts Box Office Monday through Friday, 8:30 a.m. to 12 noon and 1:30 to 4 p.m. The Box Office will open 90 minutes before curtain time for theater and VAS events. For phone reservations, call 765-361-6411.
---
Wabash College is a private liberal arts college for men located in Crawfordsville, Indiana and was founded in 1832. Long known as one of the nation's finest liberal arts colleges, Wabash is home to the Center of Inquiry in the Liberal Arts. Wabash also is included in Loren Pope's book, Colleges That Change Lives, and is ranked 12th on the Forbes.com list of "America's Best Colleges. Visit www.wabash.edu for more information.