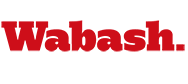 Contradictions in American Life: The inaugural John W. Evans Lecture
by Robert Wedgeworth '59

October 1, 2008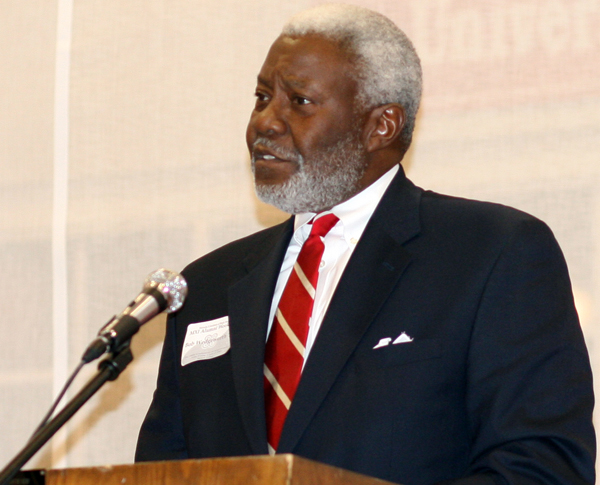 Ambiguities and Contradictions in American Life:
An African American Perspective
The John W. Evans Lecture
for the Malcolm X Institute of Black Studies
Delivered September 20, 2008
in the Robert E. Knowling Fieldhouse
Wabash College
Introduction
When I received the invitation to present a lecture sponsored by the Malcolm X Institute of Black Studies I was both pleased and flattered. Pleased because it would give me the opportunity to reminisce about my experiences in the context of the celebration of the first African American alumnus, and flattered because the principal qualification I believe I have for this honor is the dubious distinction of being the oldest surviving African American alumnus of the College. But, no matter how old I am, when I set foot on this campus I feel like that skinny, 18 year old who arrived here from Kansas City, Missouri 53 years ago.

Originally, this lecture was to have been given in February of this year as part of the celebration of the 175th anniversary of the founding of the College. However, I had long established plans to be out of the country for the entire spring. Dr. Lake and the College graciously agreed to re-schedule the event for this fall. I apologize for any inconvenience this may have caused.

During the course of these remarks I will use the terms colored, Negro, Black Afro-American and African American interchangeably. Although my preference is African American since it is the most accurate description, I grew up as a "colored" boy, went to high school as a "Negro," became "black" in the 1960's, "Afro-American in the 80's and finally African American in the 90's. Henry Louis Gates has a humorous and insightful look at this identity issue in his book COLORED PEOPLE (New York: A.A. Knopf, 1994).

What I hope to do in these remarks is to answer a few questions about John Evans, share a perspective on his life and times, and pose a few questions about what this means for the Malcolm X Institute and the College.
Legends and Facts
In the movie western, "The Man Who Shot Liberty Valance," the senator asks the reporter if he will print the real story rather than the legend. The reporter replies, "this is the West, sir. When the legend becomes fact, print the legend."

The Pulitzer Prize-winning author, Joseph Ellis, in his book, American Creation, notes that Americans have tended to teach the legends of our history rather than the facts. By raising Washington, Jefferson, Adams and others to the level of demi-gods, we have ignored their flaws and weaknesses as humans. Conversely, Ellis notes that some revisionist historians, as they focused their efforts on issues related to slavery, Native Americans and women, have tended to demonize the early leaders thus trivializing their actual accomplishments.

• The first successful colonial war for independence
• The first nation-sized republic
• The first wholly secular state

Ellis notes significant failures as well. The failure to end slavery, or adopt measures that would lead to its extinction and the failure to effect a just settlement with Native Americans, are the two most prominent examples. (Ellis, p. 8-10)

These failures led us to the Civil War, to race being the single-most divisive issue in our society today, to the Civil Rights Movement, and to the ongoing struggle of Native Americans to obtain a just settlement of their various claims. Indian nation claims to large portions of central New York State have re-emerged recently guided by impressive legal talent financed by pooled revenues from casinos in the Indian nations.
The American Dream
For many, the American experience is to live the "American Dream," by getting a decent education, making a good living, owning your own home and raising a healthy and happy family. For many others who aspire to that dream their American experience is fraught with ambiguities and contradictions. For African Americans, Native Americans, some immigrants, women, the poor, the seriously ill and the elderly, the "American Dream" is an unfulfilled promise. That unfulfilled promise is the gap between the right promised in the Declaration of Independence to, "life, liberty and the pursuit of happiness," and the realities of insuring those rights in a Constitution that would make the government work for all of its people.
John W. Evans
It is within this context that we view the life of John Williams Evans, who in 1908 became the first African American graduate of Wabash College, the centennial of which we celebrate this weekend. Many details of his life have yet to be discovered, but much of what we do know came to us from Evans himself in a series of correspondence with the College in 1940-41. I would also like to acknowledge assistance from Wilberforce University, University of Minnesota and the St. Louis Public Library.

Evans was born February 6, 1877 to Samuel and Nancy (Chavis) Evans in a log cabin in or near Spencer, Indiana. At the age of 12, after the death of his father, he was bound over in service to a white couple, the Butlers, as security for an unpaid debt. According to Evans this was a small loan taken shortly before his father's death. Evans did "family work" for the Butlers, a brother-in-law Mr. E.C. McMurtry and an uncle, Mr. Russell. Evans' mother died when he was 15. He was sent to school and became the first Negro to graduate from the Rockville, Indiana high school. He went on to attend and graduate from Wilberforce University in Ohio (founded in 1856 as the first private university for educating African Americans). Mostly in summers before, during and after Wilberforce, he worked variously as a "coal miner, boot black, cow boy, elevator operator, a table waiter and roustabout on passenger and freight steamers (respectively) on the Great Lakes, a Pullman porter for 9 summers." (Evans typescript letter to R.E. Banta, signed, September 11, 1940)

Reflecting on his early life after a successful career in education Evans said,
"As I look back at the days when I was a poor orphan, barefoot, and usually hungry… and attending school it all seems now like something like a dream that I can scarcely realize that such (his career) could ever have come to me; a Negro of ordinary ability." (Evans typescript letter to R.E. Banta, signed, November 11, 1940)

Early on Evans demonstrated that he was far from ordinary. Returning to Indiana after college he became a teacher in Indianapolis, but found time to serve as a juvenile probation officer and to establish the first "colored" YMCA, the Senate Avenue Branch, in 1902. He served as its first Executive Secretary. (Evans typescript letter to R.E. Banta, signed, September 11, 1940)

The Young Men's Christian Association (YMCA) had begun working with black communities in 1853, but opened a "Colored Work Department" in 1890 over the protests of many members. At that time there were 36 black associations, mostly in academic institutions. By 1945, the last year African American associations were reported as a separate category there were 84 associations. Segregation of YMCA's as a national policy ended in 1946. (http://special.lib.umn.edu/findaid/html/ymca/yusa0001.phtml#a7)

In 1905 Evans moved to Crawfordsville, Indiana to head the Negro school, teaching all grades. He enrolled in Wabash College and completed his A.B. in 1908. (Evans typescript letter to R.E. Banta, signed, June 30, 1940) He moved to St. Louis, Missouri the fall after completing his degree at Wabash. Initially, he was appointed Principal of the Garnett School where he served for ten years. He then served as principal of the Wheatley School for a year and a half before being appointed Principal of Lincoln School where he served for 22 years.

By 1927 Lincoln was the largest school in St. Louis. At one time Evans served not only as Principal of the Lincoln School, but also Principal of the continuation (evening) school, the grade manual school and summer schools for Negroes in St. Louis. To further his education, he studied at Harris Teachers College, Missouri State University, University of Chicago, and the University of Michigan, completing an M.A. in 1929 at the State University of Iowa. (Evans typescript letter to R.E. Banta, signed, September 11, 1940) Evans also found the time to help organize the Pine Street Branch YMCA, direct and sing in his church choir, while supporting from his own funds social centers for youth. Despite this extraordinary record of service to the city of St. Louis, his death did not merit an obituary in the ST. LOUIS POST-DISPATCH, the city's leading newspaper.

Remembering Wabash
Evans told his life story in a series of letters to R.E. Banta, then Director of Public Relations for the College, between June 1940 and December 1941. He initiated the contact in response to a solicitation, contributing $20. Encouraged to inform the College of his career, he responded, making additional contributions with each letter. His story was told and re-told in the WABASH BULLETIN, THE BACHELOR, and WABASH NOTES.

Speaking of his Wabash experience, he wanted to be remembered to Dr. Millis, who supervised his work in the Crawfordsville school. He was proud to be the "first Negro to have received a degree from Wabash," saying, "what little success I have had in life was due to the fine Christian influence of "dear ole Wabash," and the inspiration received from those most excellent instructors." (Evans, typescript letter to R.E. Banta, signed, June 30, 1940)

Evans died June 16, 1953 at the age of 76. His wife, Leona M. Evans, survived him. He was buried in Marcellus, Michigan. (State of Missouri, death certificate, June 16, 1953)

A number of questions arise from this summary of Evans' life that could serve as an ongoing research project for the faculty and students of the Malcolm X Institute of Black Studies (MXIBS).
Was it common for minor children to be held responsible for the debts of deceased parents in Indiana in 1889? Was not involuntary servitude abolished in 1865?

Why did Evans seek a degree at Wabash after completing his work for a B.S. at Wilberforce? Was he not considered qualified as a teacher?

Did he ever have children? Are there descendants of Mrs. Evans?
Related Experiences
I too, was an orphan when I arrived at Wabash College in 1955. My mother and father had died within three months of each other in January and April respectively during my senior year in high school. I was able to come to Wabash on a tuition scholarship from the College and a supplementary scholarship from a Ford Foundation-sponsored fund for Negro students. I had attended racially segregated schools from kindergarten through high schools. I had experienced some of the ambiguities and contradictions in American life while celebrating the triumphs of individual African Americans like Marian Anderson, Joe Louis and Jackie Robinson. I was aware of restrictions on African Americans, mainly in the South, on voting, education and employment, for example.

There were accepted practices of racial discrimination in certain restaurants, hotels and other public venues in Kansas City, but cultural institutions like the Nelson Art Gallery or the concerts in the Municipal Auditorium were open to everyone.

Perhaps, my teachers had lives that more closely paralleled that of John Evans. Many of them had obtained graduate degrees from some of the nation's most respected universities, University of Kansas, University of Iowa, Iowa State, University of Chicago and Yale University, to mention a few. They were unable to obtain employment locally except in the schools for Negroes. The physical plant of my high equaled or exceeded those of white high schools in the city. My high school basketball team played against mostly other black high schools in the state. However, there were a few high schools in Kansas that would schedule games with us, if the games were held on their courts.
Newspapers in the black community like the St. Louis Argus and the Kansas City Call carried stories of atrocities committed against black people locally and elsewhere, along with small triumphs. The ironies of being treated as second-class citizens probably reached its apex during World War II when men were drafted or volunteered to serve in the armed forces while being denied basic rights at home. Lt. Colonel Charles Dryden, one of the "Tuskegee Airmen," for example, describes in his memoirs traveling in railroad cars that were inferior to cars used to transport German prisoners of war. He also recounts being court-martialed for insisting on using an Ohio airbase officers' club that was off limits to black officers by order of the base commander in violation of regulations.

While we did not experience in Kansas and St. Louis the extremes of racial segregation as practiced in places farther south, there were accepted discriminatory practices that lasted until protests during the Civil Rights Movement forced them to be dropped.

The impact of segregated schools and other discriminatory practices in border state communities like St. Louis and Kansas City was not to deprive black children of good teachers and good facilities. They denied the teachers and students basic human dignity and the opportunity to develop our full potential in competition with the rest of society in academics, athletics or the arts. Nevertheless, our teachers were educating us for "export" for they knew that we were going out into to a world that they had not had the opportunity to experience.

When Supreme Court Justice Thurgood Marshall died I remember asking my daughter if she was aware of how important he had been to the black community. Of course, she knew of his role in leading the legal team in the Brown v. Board of Education of Topeka, Kansas case. What she did not know was how he was revered for taking on countless lesser cases defending African Americans all over the country against basic denials of rights under the law. Eleanor Roosevelt may have been a favorite target of cartoonists during this period, but she also was revered in black communities for her tireless efforts to obtain fair treatment for Negroes.
When I arrived in Crawfordsville in the mid-1950's there was a small black community. There were no black employees of the College. However, several of the fraternities employed blacks as cooks. The cook at the Beta house was very helpful in orienting me to the racial climate in town. For example, blacks were not welcome in the bars, but could purchase liquor over the counter. Even after I was 21 I never patronized any of the bars. I was always treated with respect and courtesy on campus, but knew that as a basketball player I would probably be accorded privileges that were not accorded other blacks in the community. As a result, I limited my contact with the town.

The College did not inform me that I would be the only black student in the College my freshman year. It came as a surprise, but there were no incidents that I was aware of caused by my presence. After my freshman year the basketball coach, Bob Brock, did not schedule contests with opponents in the South where local laws prohibited interracial athletic contests. A student from Louisville, Kentucky, Julius Price, had attended Honor Scholarship Weekend with me at Wabash, but he received a Congressional appointment the U.S. Military Academy (West Point). He got married at the end of his first year and transferred to Wabash, for at that time cadets were not allowed to be married. Although we had many different interests, Julius and I became good friends from the start. His grandfather had founded the Mammoth Life Insurance Company and after we graduated Julius went into the family firm becoming its president a few years later. He died from a brain tumor in his mid-50's. During the years we were at Wabash other African American students enrolled, but none of them graduated. Most left because they could not take the rigors of a single-sex college.
Malcolm X
Generally, during the period leading up to the 1960's it was thought that by getting an education, working hard and being courteous and respectful, African Americans would be accepted into the mainstream of American life. However, pressures surrounding the inequities, ambiguities and contradictions for African Americans continued to build. It took Malcolm X to end our fantasies.

Demonized by the white media, he spoke aloud thoughts that most blacks were afraid to say even in private. We were too timid or had been co-opted by the system. Malcolm raised a consciousness that only we could change the circumstances of our lives. His courage was contagious.

The actor, writer, director, Ossie Davis, spoke eloquently for most African Americans in his eulogy following the assassination of Malcolm X:

"Here—at this final hour, in this quiet place—Harlem has come to bid farewell to one of its brightest hopes—extinguished now, and gone from us forever. For Harlem is where he worked and where he struggled and fought—his home of homes, where his heart was, and where his people are—and it is, therefore, most fitting that we meet once again—in Harlem—to share these last moments with him. For Harlem has ever been gracious to those who have loved her, have fought her, and defended her honor even to the death.

"It is not in the memory of man that this beleaguered , unfortunate, but nonetheless proud community has found a braver, more gallant young champion than this Afro-American who lies before us—unconscious and still. I say the word again as he would want me to: Afro-American—Afro-American Malcolm, who was a master, was most meticulous in his use of words. Nobody knew better than he the power words have over the minds of men.

"Malcolm has stopped being a "Negro" years ago. It had become too small, too puny, too weak a word for him. Malcolm was bigger than that. Malcolm had become an Afro-American and he wanted so desperately—that we—that all his people, would become Afro-Americans too.

"There are those who will consider it their duty, as friends of the Negro people, to tell us to revile him, to flee, even from the presence of his memory, to save ourselves by writing him out of the history of our turbulent times. Many will ask what Harlem finds to honor in this stormy, controversial and bold young captain—and we will smile. Many will say turn away from this man, for he is not a man but a demon, a monster, a subverter and an enemy of the black man—and we will smile. They will say that he is of hate—a fanatic, a racist—who can only bring evil to the cause for which you struggle!

"And we will answer and say to them. Did you ever talk to Brother Malcolm? Did you ever touch him, or have him smile at you? Did you ever listen to him? Did he ever do a mean thing? Was he ever himself associated with violence or any public disturbance? For if you did you would know him. And if you knew him you would know why we must honor him.

"Malcolm was our manhood, our living black manhood! This was his meaning to his people. And, in honoring him, we honor the best in ourselves. Last year, from Africa, he wrote these words to a friend: 'My journey,' he says, 'is almost ended, and I have a much broader scope than when I started out, which I believe will add new life and dimension to our struggle for freedom and honor and dignity in the States. I am writing these things so that you will know for a fact the tremendous sympathy and support we have among the African States for our Human Rights struggle. The main thing is that we keep a united front wherein our most valuable time and energy will not be wasted fighting each other." However we may have differed with him—or with each other about him and his value as a man—let his going from us serve only to bring us together, now.

"Consigning these mortal remains to earth, the common mother of all, secure in the knowledge that what we place in the ground is no more now a man—but a seed—which after the winter of our discontent, will come forth again to meet us. And we will know him then for what he was and is—a Prince—our own black shining Prince!—who didn't hesitate to die, because he loved us so."
(Eulogy delivered at the funeral of Malcolm X, Faith Temple Church of God, February 27, 1965) (The official web site of Malcolm X)
The Promise and the Reality of MXIBS
We live in a much more complex world today than even Malcolm contemplated. It is extraordinary that a small college like Wabash has committed such impressive resources to honor its African American students and alumni. It is even more important that we do not squander the opportunity to do something extraordinary in response.

There are over 300 degree-granting programs in Black or Ethnic Studies across the nation, a number in Indiana alone. Most offer courses that are popular with the students taught by well-qualified faculty. But they struggle to attract and retain faculty, and to attract and retain majors, and to attain a foothold in the mainstream of the academy. The opportunity that the MXIBS at Wabash has to avoid becoming another marginal department is to enlarge its focus as Malcolm suggested in his letter from Africa.

With black Studies at its core, MXIBS can encourage and support other departments to share in presenting a more balanced view of the American experience. Students are hungry for exposure to ideas that inform them of why, given its Bill of Rights, the U.S. fails to provide equal protection under the law for all of its citizens? What does it mean to be a leader in a society where the workers will be mostly of color and substantially female? Why are there so many poor people of Black, Native American, Hispanic, Asian and Middle Eastern descent in the U.S? How can the MXIBS contribute to a campus environment that teaches us to both honor American achievements while recognizing and understanding our limitations?

To realize this opportunity MXIBS will require continued support from the College and active cooperation from other academic departments. It will also require a broader vision of the role of the Institute. But most important, it will require an active alumni support group that shares this broader vision.
John W. Evans is an example to follow. In his several communications with the College, Evans never failed to include a small financial contribution, nor did he fail to indicate how much he valued his Wabash education. Wabash continues to be successful because each generation of Wabash men understands the debt they owe to their predecessors and their obligation to contribute to future generations. The Alumni of the MXIBS should do no less.

Thank you.

Read Dean of the College Gary Phillips' opening remarks here.