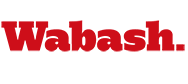 Journal Review Profiles Amina McIntyre
by Jay Heater, Journal Review Editor

August 27, 2008

Amina McIntyre, 25, has proven she can kick down doors. By the age of 23, she already had assume the role of assistant director of Wabash College's Malcolm X Institute of Black Studies. She doesn't want to stop there.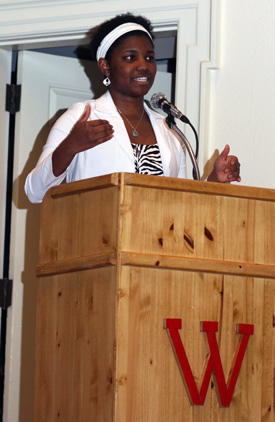 "I'm a playwright in my nightlife," she said on Tuesday at Wabash. "I have tried poetry and novels, but with plays, you really can get a feel for the entire culture of a character or how you want something to smell or to look like."
McIntyre might be close to a breakthrough. She has been selected by the Indiana Theatre Association to have a cold reading at the organization's "It Works!" conference Sept. 12-14 at the University of Indianapolis.
Two full-length scripts (kind of the grand prize winners) were selected by the Indiana Theatre Association to be presented in staged readings. Thirteen playwrights, including McIntyre, were selected for cold readings.
"People from the audience will be selected to read parts of my play," said McIntyre, an Atlanta native. "I might be reading one of my characters."
Ruth Tyndall Baker, chair of "It Works!" said it is a great opportunity for McIntyre.
"Once a year we have this conference to help, support, nurture and teach Indiana playwrights," Baker said. "Cold readings are extremely beneficial to playwrights. It's a chance to explore. You hear rhythms of speech. We find out what other people might bring to table about what we are writing. We hope it stimulates playwrights into exploring other ideas."
The Wabash students acted out McIntyre's "three-minute" play called "Point of View" last November. She also had a reading of her play "Two Card Tables and a Clothes Rack" at Wabash.
At the "It Works!" conference, she will present 10 pages of her play "Doin' The Work" about a female preacher coming to a job in South Carolina and the hardships involved.
"I'm still pretty new to this," McIntyre said. "I have my whole life ahead of me."
While this is McIntyre's first big break, she has been preparing for the moment. "I like to do small co-readings at my house," she said. "I call my friends over and we have nachos and beer. I listen and think, 'I want the character to sound more like this.' "
She hopes the conference will help her develop more contacts in Indiana.
The conference is open to the public. For more information, call Baker at 260 422-3486.