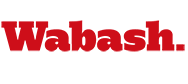 Annual Fund: Rise to the Challenge
May 7, 2008

The DePauw University Tigers have challenged Wabash men and their families to a fund-raising battle. While the Monon Bell is not on the line, something much more important is — PRIDE.

As part of a recent annual fund campaign, DePauw challenged its alumni to donate in record numbers in order to claim a victory over Wabash in alumni giving percentage. About 37 percent of alumni from both schools traditionally make annual gifts.

No Wabash man ever turns down a challenge from a Dannie. Do your part today — we need 1,190 alumni to make a gift to the College in support of Wabash students by June 30 to reach 40 percent. In fact, if everyone from Wabash who has made a gift in the last four years would make a gift this year, we'd have more than 50 percent of our alumni on board. And we know DePauw can't top that.

Click here to make your gift now.

Every gift, every amount, will demonstrate how there is strength in numbers when alumni and friends come together to support Wabash students. Use one of the options below to make your gift now.

Your gifts will be processed within one business day. If you have any problems completing your online transaction, email us, or call 1-877-743-4545.