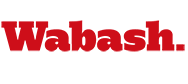 Commencement Set for May 11
May 1, 2008

The Wabash College Class of 2008 will graduate in commencement weekend activities May 10-11. The seniors' final weekend on campus begins with the Deans' Breakfast and culminates in the 170th Commencement Ceremony.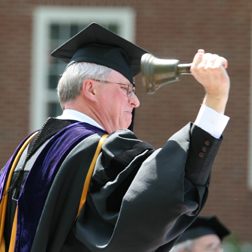 Click here to see a full schedule of events for the weekend. Commencement will be held on the College Mall on Sunday, May 11 at 2:30 p.m. In the event of rain, the ceremony will be held in Chadwick Court in the Allen Center.
Seniors Chris Geggie and John Moore have been selected to give the Commencement addresses, continuing Wabash's time-honored tradition of having only graduating seniors speak.
Geggie is a Latin and Greek double major from Alhambra, California. The son of Paul and Olivia Geggie, Chris served his fraternity, Sigma Chi, as Risk Manager, Pledge Trainer, Philanthropy Chair, and Newsletter Editor. He received the McLain Prize in Classics, the Albert M. Gavit Scholarship, the Dill Scholarship, and the Givens Scholarship. A talented pianist and organist, Chris received the Fine Arts Award for Piano Performance. He was inducted into the Wabash chapter of Phi Beta Kappa.
Moore is an English major from Carmel, Indiana. The son of Mark ('79) and Ruth Moore, John served as President of Phi Gamma Delta. He is a Wabash College Honor Scholarship recipient and was inducted into the Wabash chapter of Phi Beta Kappa.
Two alumni and one of America's great contemporary authors will receive honorary degrees.
Joseph D. Barnette, Jr. will receive an honorary Doctor of Laws degree. Barnette is a 1961 graduate of Wabash College and spent much of his career in banking, rising to the position of Chairman and CEO of Bank One Indiana. After retiring from banking, he became the President of Sexton Properties, an Indianapolis real estate and development company. He served has served Wabash as a Trustee since 1986 and was Chairman of the Board for nine years. During his tenure at the helm of the Board, Wabash engaged its alumni in new and innovative ways; nearly doubled its endowment; stabilized its enrollment; and developed unprecedented Immersion Learning and internships for Wabash students.
Major General Earl L. Johnson '38 will receive an honorary Doctor of Laws degree. Shortly after graduating from Wabash in 1938, General Johnson enlisted in the United States Army Air Corps and would spend the next 31 years of his life piloting aircraft, instructing new pilots, and commanding bomber wings for the Air Force. He served in the South Pacific during World War II and later returned to Guam to command bombing missions during the Vietnam War. General Johnson was the instructor for the 509th Atomic Wing, which would later drop the atomic bombs on Hiroshima and Nagasaki, thus ending World War II. He received numerous military honors, including the Distinguished Flying Cross and the Bronze Star. After his retirement from the Air Force, General Johnson founded International Realty of Orlando, a Central Florida-based real estate and development firm.
Award-winning author Tim O'Brien will receive an honorary Doctor of Humane Letters degree. A liberal arts graduate of Macalester College and decorated veteran of the Vietnam War, O'Brien is one of America's greatest contemporary writers. His memoir, essays, and novels take readers on journeys through combat zones in war, love, and life, and blur the distinctions between fact and fiction. O'Brien's memoir If I Die in a Combat Zone, his National Book Award-winning novel Going After Cacciato, and his Pulitzer Prize-nominated novel The Things They Carried are regularly studied in Wabash classrooms, and he gave a public reading at Wabash in the fall of 1994. Time magazine named In the Lake in the Woods its Best Work of Fiction in 1994. In 1999, the title story of The Things They Carried was selected for inclusion in the Best American Short Stories of the Century. Mr. O'Brien presently holds the Mitte Chair in Creative Writing at Texas State University, San Marcos.
Collin Smith and Bradley Armstrong have been selected to serve as Junior Marshals for the ceremony, and will assist the Faculty Marshal, Tobey Herzog. Smith is a junior economics major from Schererville, Indiana. He is a member of Beta Theta Pi and was a member of the Wabash basketball team for two seasons. Collin received the Warren Shearer Award this spring, and he is the son of Paul and Joan Smith.
Armstrong is an economics and mathematics double major from Fort Wayne, Indiana. He is a member of Delta Tau Delta and the Sphinx Club. Bradley received the George Lovell Award this spring, and he is the son of Scott and Barbara Armstrong.