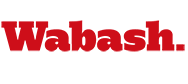 MXI Hosting Community Wide Car Wash
by Karen Handley

April 24, 2008

The Malcolm X Institute of Black Studies at Wabash College will host a car wash to benefit Building a Healthy Future. The car wash will take place from 9 a.m. until 12 p.m. on Saturday, April 26 at the National Guard Armory in Crawfordsville. A $5 minimum donation will be asked.

Building a Healthy Future is a plan to help build a skate park and playground equipment for Milligan Park. All donations from the car wash will go the skate park.