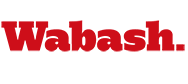 Wabash Glee Club and Musician Give Concerts
by Karen Handley

March 11, 2008

Get directions to Wabash College Fine Arts Center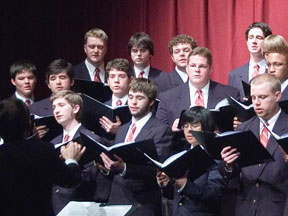 The Wabash College Music Department will offer its annual Fine Arts and Honor Scholarship Weekend Concert on Friday, March 14, at 8 p.m. in Salter Hall of the Fine Arts Center. In addition, the Wabash College Glee Club will present its Campus Concert for the Wabash and Crawfordsville communities on Sunday evening, March 16, at 8 p.m. in the Salter Concert Hall of the Fine Arts Center at Wabash College.
The Friday evening concert will feature four Music Department ensembles: Wamidan (world music ensemble), Brass Ensemble, Jazz Band, and Glee Club.
The 40-member Glee Club will present its annual Campus Concert on Sunday evening at 8 p.m. Recently returned from its Spring 2008 Concert Tour in San Francisco, California, the Glee Club's performances there included St. Mary's Cathedral, Grace Cathedral, Cal State University East Bay, the Family Club, Vintage Seniors Retirement Community, and a Wabash alumni reception at the John Pence ('58) Gallery. The Glee Club is under the direction of Dr. Richard Bowen and is accompanied by Ms. Cheryl Everett.
Both concerts are free and open to the public.