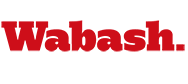 Glengarry Glen Ross Run Ends Saturday
by Karen Handley

February 15, 2008

Get directions to Wabash College Fine Arts Center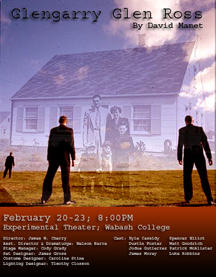 The Wabash College Theater Department will present Glengarry Glen Ross by David Mamet, which opens Wednesday and runs through Saturday in the Experimental Theater in the Fine Arts Center.
The performances are scheduled for 8 p.m. each evening.
Click here to see photographs from Sunday's dress rehearsal.
The winner of the 1984 Pulitzer Prize for drama, David Mamet's Glengarry Glen Ross offers audiences a snake's-eye view of the real estate business. In that world, knowing the shot, closing the deal, and getting up on the Cadillac board are all that matter. And desperation reigns.
Nearly a quarter of a century after its London premiere and successful Broadway run, Glengarry's cocktail of ambition and agony still impacts our popular culture—from the sheepish Gil on The Simpsons to Entourage's Ari Gold.
The New York Times' Ben Brantley wrote "[it] feels like having espresso pumped directly into your bloodstream." Brimming with intense, crackling dialogue, Glengarry Glen Ross reveals the dark underside of the American Dream.
Warning: There is adult language in the play.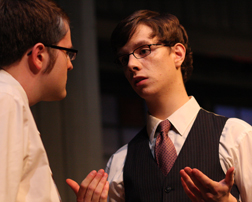 The cast list includes Wabash students: Kyle Cassidy and Spencer Elliot (pictured left), Dustin Foster, Matt Goodrich, Josuè Gutièrrez, Patrick McAlister, James Morey, and Luke Robbins.

James Cherry is the director. Assistant Director is Nelson Barre and stage manager is Cody Grady.

Seating for Theater productions will be by general admission, though free tickets are required for Theater productions.

For tickets contact the Fine Arts Center Box Office by email at boxoffice@wabash.edu; phone: 765-361-6411. Box Office hours are Monday through Friday, 8:30 a.m. to 12 noon and 1:30 to 4 p.m. The box office will open 90 minutes before curtain time. Tickets not claimed at the Box Office 10 minutes prior to curtain will be released to the general public.

The final theater production for the 2007-2008 season will be A Flea in Her Ear on April 16-19.