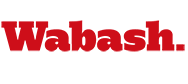 Campus-wide Network Outage Scheduled for March 1
by Brad Weaver

February 15, 2008

"This spring we are making upgrades to the electrical system in the campus server room to provide generator power backup for that equipment," Director of Campus Technology Brad Weaver said. "This is an important project that substantially improves our disaster preparedness."

As part of this work, we will have two periods of extended network downtime when power to the server room is shut off:

Saturday, March 1 5am-4pm (1st Saturday of Spring Break)

During this work, ALL network and telecommunications services will be unavailable, including the campus phone system, the Wabash web site, email, Datatel, Blackboard, network storage drives, Internet access, and Wabash wireless networking.

IT Services is sorry for any inconvenience these outages will cause. Please contact the Help Desk if you have any questions or concerns about this work.