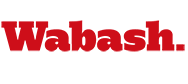 Raeburn Getting Settled into Wabash Job
by Jim Amidon

February 1, 2008

Erik A. Raeburn is on campus and taking the reigns of the Little Giant football program. Raeburn arrived in town Monday night, Feb. 4, and dived into media interviews, college business and even a Bachelor interview in his first day on the job.

"Erik Raeburn brings to Wabash a commitment to coaching student athletes to excellence on and off the field," said President White. "A champion who knows how to bring out championship performances in his teams, Coach Raeburn is a perfect fit for Wabash now and for our best dreams for the future."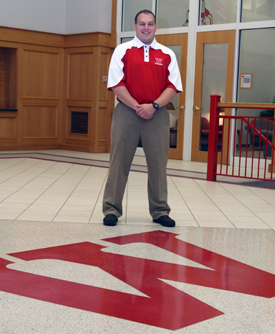 Raeburn comes to Wabash after eight years as head football coach at Coe College in Cedar Rapids, Iowa, where he posted a 57-26 record. Prior to arriving at Coe, Raeburn was an assistant coach at his alma mater, Mount Union College, where he served as offensive line coach and offensive coordinator.
"I'm really honored to have the opportunity to be the head football coach at Wabash College," said Raeburn. "I was so impressed with the atmosphere on campus when I attended the basketball game Wednesday night and saw how supportive the students are of the athletics program. I look forward to getting started soon."
At Coe, Raeburn coached 65 All-Iowa Intercollegiate Athletic Conference players, 40 All-Americans, and two Academic All-Americans. He guided Coe to its first IIAC title in school history in 2002, and followed with conference championships in 2004 and 2005. He was the 2002 IIAC Coach of the Year and Regional Coach of the Year. He led the Kohawks to their first-ever playoff appearance in 2002, advancing to the second round, and also led Coe to the playoffs in 2005.
"We're very pleased to have a person with Erik's experience and ability," said Wabash Dean of Students Tom Bambrey, who led the search committee. "With his coaching experience at Mount Union and Coe, he brings us exactly the kinds of skills we were seeking. We're thrilled to have him as a part of our community."
Raeburn earned his bachelor of science degree in mathematics from Mount Union College and is currently pursuing his master's degree. As an assistant coach under Larry Kehres at Mount Union, he helped the Purple Raiders six Ohio Athletic Conference Championships and three NCAA Division III National Championships (1996, 1997, 1998).
Raeburn replaces Chris Creighton, who departed in December to become the head coach at Drake University. In 2007, Wabash won its third straight North Coast Athletic Conference championship and advanced to the third round of the NCAA Division III playoffs. The Little Giants return 13 starting players from last year's 11-2 squad.
Erik Raeburn's Coaching Record
Head Coach, Coe College Kohawks
2007 — 7-3 overall — 5-3 IIAC (3rd)
2006 — 7-3 overall — 5-3 IIAC (3rd)
2005 — 9-2 overall — 7-1 IIAC (1st) NCAA III Playoffs, first round
2004 — 7-3 overall — 6-2 IIAC (1st, tie)
2003 — 5-5 overall — 3-5 IIAC (6th, tie)
2002 — 10-2 overall — 8-1 IIAC (1st, tie) NCAA III Playoffs, second round
2001 — 6-4 overall — 6-3 IIAC (3rd, tie)
2000 — 6-4 overall
Assistant Coach, Mount Union College Purple Raiders
1999 — 12-1 overall — NCAA III Playoffs, Semi-Finalists
1998 — 14-0 overall — NCAA III National Champions
1997 — 14-0 overall — NCAA III National Champions
1996 — 14-0 overall — NCAA III National Champions
1995 — 12-1 overall — NCAA III Playoffs, Third Round
1994 — 10-2 overall — NCAA III Playoffs, Second Round