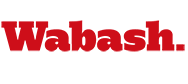 VAS Presents Trio Amabile with Eric Grossman
January 22, 2008

Get directions to Wabash College Fine Arts Center

Wabash College's Visiting Artists Series will present Trio Amabile with violinist Eric Grossman at 8 p.m., Friday, February 1, in Salter Hall at the Fine Arts Center.

Founded in 1993, Trio Amabile has been invited to perform in concert series throughout the Midwest. The Trio — violinist and Wabash College Chamber Orchestra Conductor Alfred Abel, Tippecanoe Chamber Music Society Artistic Director and cellist Margot Marlatt, and Indianapolis Chamber Orchestra violist Colette Abel is joined for this program by violinist Eric Grossman.

Seating for Visiting Artists Series events will be by general admission, though free tickets are required for Visiting Artists Series programs.

Contact the Fine Arts Center Box Office by email at boxoffice@wabash.edu; or phone: 765-361-6411. Box Office hours are Monday through Friday, 8:30 a.m. to 12 noon and 1:30 to 4 p.m. The box office will open 90 minutes before curtain time for Visiting Artists events. Tickets not claimed at the Box Office 10 minutes prior to curtain will be released to the general public.