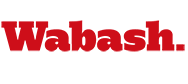 Brass Ensemble and Jazz Band to present Concert on November 6
by Karen Handley

November 1, 2007

Get directions to Wabash College Fine Arts Center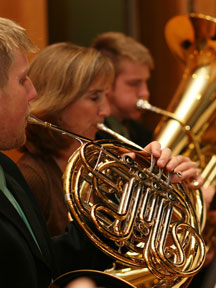 The Wabash College Brass Ensemble and Jazz Band will present a fall concert at 8 p.m. Tuesday, November 6, in Salter Concert Hall in the Fine Arts Center.

The Brass Ensemble, under the direction of Peter Hulen, Assistant Professor of Music, will perform "We Hasten with Eager Footsteps" from "Cantata No. 78" by Johann Sebastian Bach; "Sanctus" from the "German Mass in F" by Franz Schubert; "March of the Royal Lion"; "Fossils"; "Elephant" from "Carnival of the Animals" by Camille Saint-Saens; and "Hallelujah, Amen" from the oratorio "Judas MaccabÊus" by George Frideric Handel.

The Jazz Band, under the direction of Steve Robinett, will offer Mercer Ellington's "Things Ain't What They Used To Be" featuring several jazz soloists in this swinging blues arrangement. After the opening number, they will feature trumpeter, junior Jay Brouwer, on "I Can't Get Started." Their next number will be the seasonal favorite, "The Autumn Leaves," featuring a solo by sophomore pianist Jason Allen. Sophomore Emmanuel Aoude will be the featured saxophone soloist on a bossa nova version of Hoagy Carmichael's "The Nearness Of You." The Jazz Band will conclude with the Duke Ellington favorite, "It Don't Mean A Thing If It Ain't Got That Swing."

Admission to the concert is free. The public is cordially invited.