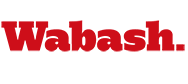 Wabash IT Sponsoring Community Computer Recycle Day
October 22, 2007

The Wabash Conservative Union will host its first lecturer of the semester Thursday, Mr. Kamran Beigi. Beigi is the former communications director to Reza Pahlavi, former Crown Prince of Iran and son of the late Shah Mohammad Reza Pahlavi. Currently, Beigi serves as a consultant at the Institute on Religion and Public Policy and has appeared before Congress on matters related to Iranian foreign policy.

Beigi's lecture will begin at 7PM in Hays Hall 104 and will focus on the role of radical Islam in US-Iranian relations. A question and answer period and a reception will follow the talk. This event is free and open to the public.