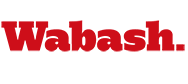 Nobel Peace Prize Nominee Shares Immigration Research
by Howard Hewitt

April 9, 2007

The real impact of immigration and even undocumented immigration is often proved to be the opposite portrayed by politicians and anti-immigration factions.

Dr. Jorge Bustamante, a sociology professor at Notre Dame and 2006 Nobel Peace Prize nominee, told a Wabash College audience Monday evening that research clearly shows a strong dependence on immigrants in U.S. agriculture.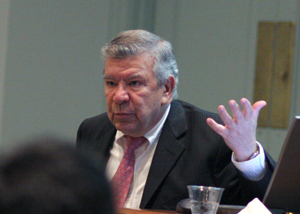 "One-third of all of the United States' agricultural production is from California," he said. "The labor force (in California agricultural production) is 90 percent of Mexican origin. And two-thirds of that 90 percent are undocumented."
Bustamante's considerable research, exceeding 200 scholarly papers, shows those agricultural jobs will only be taken by workers who have little other choice and often that's Mexican immigrants.
"It's ironic that the economic dependence that exists in the United States for the presence of undocumented immigrants occurs at the same time they're blamed for a number of things," Bustamante said.
He reviewed much of his life-long research on immigration, migration patterns, and recent work as the United Nations Special Rapporteur for the human rights of migrants.
Many European countries, at the European Union's urging, have given immigrants the right to vote. He is in the midst of extensive research on what countries are doing to protect the human rights of immigrants.
"And I say with some trepidation the next country I visit will be the United States," he noted. "I'm not going to make some people very happy."
He strongly acknowledged and upheld any sovereign country's right to control who can enter and who cannot. Bustamante said though, "that the United States is light years away from the way immigration is viewed in Europe.
"As a matter of fact, the United States has been opposed to most of the process of international accountability."
Still he noted progress that has occurred in California. Some undocumented immigrants are permitted to vote in local school elections since their children make up much of the school population.
Bustamante has been recognized as one of the leading experts in the field of international migration. He has served as an advisor to the United States, Mexico, and Canada for the Border Environmental Cooperation Commission and the Join Public Advisory Committee set up after NAFTA. Last year Mexico's Congress nominated Bustamante for the Nobel Peace Prize for his advocacy of human and labor rights for immigrants.