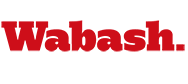 Laugh Off to Benefit Leukemia and Lymphoma Society
by Jim Amidon

April 5, 2007

The brothers of the Wabash College chapter of Alpha Phi Omega service fraternity invites the community to the third annual Laugh-Off Charity Stand Up Comedy Competition. Seven Wabash comedians will take the stage on Friday, April 6 beginning at 7:30 p.m. in the Wabash College Chapel. Tickets are just $3 at the door and all proceeds will go directly to the Leukemia and Lymphoma Society. Additional donations are encouraged and welcomed.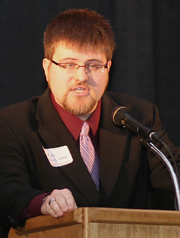 Participants in this year's Laugh-Off are "Handsome" Rob Arnett and Patrick "Flounder" O'Rourke, Kyle Cassidy (pictured left), Grant Forrester Gussman, Paul Joseph Smith, William Hohmeister, Jr., and Patrick J. Smith. Members of the audience are also encouraged to take the stage to compete. The humor will be adult in nature.
The topic comedians from the Wabash competition will go head-to-head with winners from DePauw University. The school that raises the most money in the opening round earns the right to host the finals.
Alpha Phi Omega is a national service fraternity whose members dedicate significant time to community service and philanthropic activities. The Wabash chapter annually donates more than $10,000 to local charities through fund-raisers, athletics concession sales, and events like Laugh Off.
For more information, contact Kyle Cassidy at cassidyk@wabash.edu