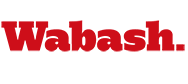 Spring Spotlight Concert this Tuesday Night
March 26, 2007

Get directions to Wabash College Fine Arts Center

The Wabash College Music Department invites you to the Spring Spotlight Concert. The musical performance will take place at 8 p.m., Tuesday, March 27, in the Salter Concert Hall in the Fine Arts Center.

The evening concert will include spirituals sung by Music Professor David Akombo; art songs sung by Classics Professor David Kubiak and senior Austin Crowder; virtuoso music for violin or piano performed by seniors Adam Dybel, Andrew McKone, and sophomore Kyle Prifogle; a baroque trio sonata played by Diane Norton, Amanda Ingram, and sophomore Juan Carlos Venis; an electronic piece created by Christophe Dony; a piano piece by experimental composer John Cage, played by junior Sean Foster; a woodwind trio performed by senior Erick Martin, freshman Matt Routh, and sophomore Tom Pizarek; a piano quartet (The Wabash College Piano Philharmonia) performing the Sabre Dance; and, as a finale, music performed by the Wabash College Jazz Improvisation Combo.

The Spotlight Concert is an entertaining annual event that gives last-chance opportunities for seniors to perform, along with special performances by faculty, staff, and students. We hope you'll be able to come and enjoy the surprising variety of music found at Wabash.

Admission to the performance is free and everyone is welcome.