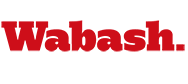 Music Department to Give Student Recital on Friday Evening
by Karen Handley

February 15, 2007

Get directions to Wabash College Fine Arts Center

The Wabash College Music Department invites you to a recital by the department's music students on Friday, February 16 at 8 p.m. in Salter Hall in the Fine Arts Center.

The evening consists of classics by Bach, Mozart, Mendelssohn, Rachmaninoff, and Ravel; jazz arrangements of music by George Gershwin and Duke Ellington; and a variety of rhythmic dance music. Performing will be freshman Andrew Hoffman, percussionist; sophomore Grant Gussman, guitarist; and pianists: freshman Jason Allen, freshman Forrest Craig, freshman Patrick Griffith, junior Sean Foster, sophomore David Herr, freshman Daniel King, and sophomore Michal Opieczonek. In addition to piano solos, there will be two piano duets and the debut of a piano quartet performing The Wabash College Piano Philharmonia.

The recital is free and open to the public.