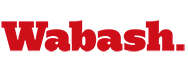 Former Attorney General Ashcroft to Speak Here Thursday
by Howard W. Hewitt

January 9, 2007

Former U.S. Attorney General John Ashcroft will speak on the Wabash College campus at 7 p.m., Mar. 15, in the Chapel.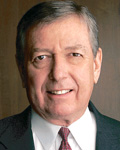 Ashcroft served under President George W. Bush from 2001-2005. He previously was Governor of Missouri (1985-1993) and represented the state as a U.S. Senator (1995-2001). His appearance is being sponsored by The Wabash Commentary, Wabash's conservative journal of news and opinion.
His lecture will deal with the current state of homeland security and his tenure as the country's chief legal officer. The doors will open to the Wabash community at 6:15 p.m. and to the general public at 6:30 p.m. The first 90 students to enter will get a copy of Aschroft's book.
During Ashcroft's Senate career he focused his effort on combating illegal drugs, improving education, and protecting the rights of those who fall victim to crime. He was a co-sponsor of the re-authorization of the Violence against Women Act.
During his time as Attorney General he was a key supporter of the controversial Patriot Act, which was passed after the 9-11 terrorist attacks.
"During his tenure as Attorney General, Ashcroft focused the Justice Department squarely on the detection and prosecution of terrorists," The Commentary editor wrote in a press release announcing Ashcroft's visit. "He also led the Department to strengthen a number of other areas, including among them the enforcement of drug laws, the punishment of violent crimes, tackling gun crimes, and various white collar crimes."
Since leaving public office, Ashcroft has served as a Distinguished Professor in the schools of Law and Government at Regent University.
For more information, contact Brandon Stewart at 765-362-5624.