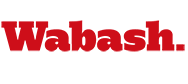 Journal Review: Wabash Helps Make REINdeer a Success
by Doug Hunt

December 14, 2006

Many Montgomery County children will have a happier Christmas thanks to Wabash College faculty and students. The Wabash community joined with Crawfordsville community members to celebrate Santa Claus' first visit to a REINdeer Program distribution day.

The fifth-annual REINdeer Program distribution was Wednesday in Wabash's Knowling Fieldhouse. But when the workers gathered to sort gifts they discovered there were about 40 names of children who still needed presents.

"The Wabash students and faculty, and community came through," said Carla Sheets, division of Family Resources, Montgomery County, who helped with the REINdeer Program distribution.

Wabash athletic trainer Mark Colston blanketed the college community with a call for help. He told faculty, staff and students there were additional names on the list that didn't have sponsors.

After a story in Tuesday's Journal Review reported a need for sponsors and gift items, the floodgates opened up for additional community support, Sheets said.

"Many people were bringing in extra gifts," Sheets said. Any gift items remaining will be passed on to Operation: Toy Box, she said.

Wabash has also been generous to the REINdeer Program in other ways, Sheets said. The College has given free space for the program distribution for three years, and provides trash bags.

Prior to Wabash, the REINdeer Program distribution day was done for two years in the Montgomery County 4-H Fairgrounds Exhibit Hall.

Several school group members also aided the program.

Some of the school group examples included Willson Kindergarten Center, $300, which went to purchase clothes; Southmont and Crawfordsville Key Clubs; and North Montgomery boys' basketball team members purchased gifts for a family with four children.

"We are teaching our kids to be generous and philanthropic," Sheets said.

Families and children who came for the morning gift pickups were greeted by Santa Claus. REINdeer Program organizers believe it is the first year a Santa Claus has been part of the distribution program.

"It was a surprise to all of us when he came in," said Penny Nephew, Montgomery County Youth Service Bureau. "He came during our rush time," co-worker Jennifer Williams added.

Santa's visit was made possible because of Youth Service Bureau board member Denny Cook and Montgomery County Commissioner Bill McCormick.

The smaller children were all smiles when Santa would bring them their goody bags full of holiday gifts and call each child by his/her first name, organizers said.

Meanwhile, Cook distributed Random House reader books and RR Donnelley coloring books.

"Santa was great and the kids loved him," Williams said.

Hunt is a reporter for the Crawfordsville Journal Review.