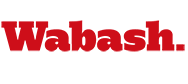 Bell on the Line for 75th Time Saturday
by Jim Amidon

November 9, 2006

The Wabash football team, coming off its historic 1,000th all-time game, will write another chapter in the College's history book this Saturday when the DePauw Tigers come to town for the 113th Monon Bell Classic.

The Little Giants and Tigers will battle for the Monon Bell for the 75th time. Kickoff is slated for 1:06 p.m.

While the intense rivalry dates to 1890, the 300-pound cast iron and brass bell didn't become the trophy for the victors until 1932. So when Wabash (7-2) and DePauw (6-3) square off Saturday, the bell is up for grabs for the 75th time.

Wabash tied for the North Coast Athletic Conference championship after last week's 41-14 win at Denison. But unless Hiram call pull off the miracle of the century in college sports and knock off Wittenberg, the Little Giants will not receive the NCAC's automatic berth in the NCAA Division III tournament.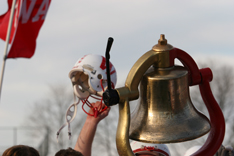 The Tigers' hopes for a Southern Collegiate Athletic Conference title were washed away by torrential rain, thunderstorms, and a fine Trinity University team back in September. DePauw held an early lead in the game suspended overnight by storms, and eventually lost to the hosts by a 26-15 score.
The Tigers, road-weary with an unbalanced schedule, lost back-to-back SCAC contests at Millsaps and Centre, before dispatching Austin 24-14 last week.
So this year — as has been the case for most of the 74 previous battles for the Monon Bell — the post-season is not at stake. At stake will be school pride and one team ending the season with a victory and the sweet sounds of the Monon Bell.
"This is an interesting end to a season," said Wabash Coach Chris Creighton. "[Last] Saturday's game was bittersweet. We were excited because we did our part to win a share of the conference title, but we know we had a chance to take the outright title. Now we have to make this weekend's game our playoff game."
The weather forecasts sound frighteningly like what you get in late November and early December playoff games. Predictions are for rain showers Saturday morning with clearing and rapidly falling temperatures throughout the day. Snow flurries are possible.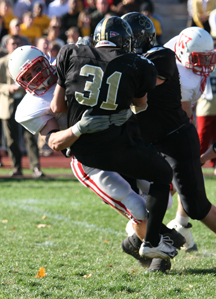 This year's Monon Bell contest comes down to a handful of easily identifiable factors.
For victory, Wabash must contain DePauw tailback Jeremiah Marks (pictured right), a junior who last week went over 1,000 yards for the season. The 6-0, 207-pounder has accounted for 48 percent of DePauw's total yardage and 46 percent of the team's touchdowns. He's capable of a 200-yard game if conditions are right.
At Denison last week, Wabash was able to hold in check the Big Red's powerful rushing duo of Fred Lee and Jon Berg, who the previous week had each gone over 200 yards. Against Wabash, Denison totaled just 184 yards on the ground — a big number — but many of those yards came in the fourth quarter when the game already had been put on the shelf.
"DePauw has a great running back in Marks and they run good play-action and run-action to keep the defense honest," said Coach Creighton. "How we do against their running game will definitely be a determining factor."
Meanwhile, for DePauw to have success, the Tigers must put enough pressure on quarterback Dustin Huff (below left) to force bad decisions and/or turnovers. If Wabash's offensive line can give Huff time, strong-armed, strong-legged senior has proven he can beat teams with his arm (2,657 yards) and his feet (334 yards).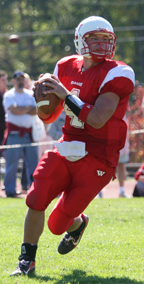 And while Huff has not been prone to make mistakes (just 7 interceptions in 269 pass attempts), Wabash's line will be tested by DePauw's talented senior defensive ends, Dustin Hertel (14 sacks, 4 forced fumbles) and Luis Davilla (9 tackles for loss, 2 forced fumbles).
To give Huff a bit more time and force DePauw to play more honestly on defense, Wabash needs to muster some form of running game. Billy King and Don Juan Brown have split time in the backfield this year, and together they have combined for 597 yards and seven touchdowns. But last week against Denison, the duo combined for just 26 yards on the ground.
DePauw linebackers Eric Lewis, Andy Branstatter, and Greg Sylvester are all seniors and all do well against both the pass and the run. The trio has combined for 197 tackles and five interceptions.
"Defensively, some of the best players from last year's team are back again this year. They're very solid against both the run and pass. We'll have to battle on every play," added Coach Creighton.
Hertel, a 6-3, 230-pound defensive end (pictured below right), is on pace to rank among national leaders in tackles for loss and sacks. He's also playing in his fourth Monon Bell Game.
Two wild cards could tip the balance in favor of Wabash or DePauw.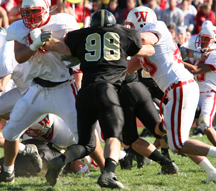 The first is DePauw freshman quarterback Spud Dick. If he starts, it will mark the first time since 1994 that DePauw will field a rookie signal caller. His decision-making under pressure could easily be the number one factor in the outcome of the game.
For reference, in 1994, John Clippinger started for the Tigers, but was benched at halftime after throwing an interception, drawing two delay of game penalties, and passing for just 50 yards. Wabash would win the game 28-24.
(And to keep things even, when Wabash last started a freshman quarterback, Jake Knott, the rookie threw for over 400 yards, but was picked off three times in a 21-7 DePauw victory.)
But this game may not fall squarely on the shoulders of Spud Dick. The talented rookie has split time with junior Abe Winkle, who could earn the start but who is more likely to split time with Dick. The duo has combined to pass for 1,331 yards and six touchdowns, but they have been intercepted 11 times.
The other wild card could be the field conditions at Byron P. Hollett Little Giant Stadium. The turf, battered by intense fall rain showers preceding home varsity and junior varsity games, is in bad shape, especially between the hash marks.
Should Saturday's predictions for occasional showers turn to predictions of heavy rain or thunderstorms, the field will get sloppy and footing, especially on cut-back plays and pass routes, will be slippery.
While the outcome will not be determined until after 4 p.m. Saturday afternoon, history will be written at 1:06 p.m. when two tradition-steeped football programs kick off in the 113th Monon Bell Classic and 75th battle for the Monon Bell.