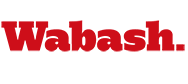 Community Portrait Scheduled for Thursday
November 7, 2006

The Senior Council, Sphinx Club, and Public Affairs Office have planned to replicate a Wabash "family portrait" last taken in the fall of 1985. The entire Wabash community — students, faculty, staff, campus services, and Bon Appetit food service — is invited to gather Thursday morning at 11 a.m. for the Monon Bell Chapel, which will be followed by the all-campus photograph. The photograph will be taken in the visiting stands of the football stadium at approximately 11:45 a.m.

"I remember well when we did it back in the 80s," said Jim Amidon, director of public affairs. "I was a sophomore and I just remember having everyone together at one time in one place. It's a pretty special memory."

In the last photograph taken, members of fraternities and residence halls stood together in groups, wearing fraternity colors.

This year's Wabash family portrait will be used in the 2007 yearbook, The Wabash, and will be made available through the bookstore.