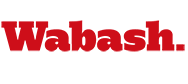 Record-Setting Distance Runner O'Drobinak '86 Dies of Cancer
by Jim Amidon

November 2, 2006

David O'Drobinak '86, one of the finest middle distance runners ever to compete at Wabash — and a brilliant student — died this week of a rare B-cell lymphoma, also known as Burkitt lymphoma. O'Drobinak, who was on the faculty at Valdosta State University in Georgia, earned his Ph.D. in biology. His special research interest was in the area of muscle physiology.

While at Wabash, O'Drobinak was an independent and biology major. He was involved with Student Senate, and he earned two letters in cross country and four in track and field. He set Wabash records in the 800 meters (1:50.7) and 1,500 meters (3:58.15) during his senior year.

"His performance at the 800-meter final at the 1986 state intercollegiate championship track meet is the single most impressive athletic performance that I have ever witnessed by a teammate in my entire athletic life," said Jim Riddle '86. "In it, he qualified to go to the National Track meet and set the Wabash record for the 800 meter run.

"At the intercollegiate meet, Dave trailed the pack of seven other runners through the 500-meter point," recalls Riddle. "He was about 25 meters behind the lead pack entering the backstretch. He started his kick 100 meters before most folks start and when he passed me at the 600-meter mark, he was five meters ahead of everyone. He made up 30 meters in 100 meters. As I sprinted diagonally across the field from the 600-meter mark to the finish line looking over my shoulder watching his progress, my worry was that he would fade because he started his kick so early. Dave not only matched everyone else's kick, he extended his lead by an additional five meters. I was astounded as he crossed the finish line."

Services will be held at 1:00 p.m. Saturday in Valdosta.

Click here for a tribute to Dr. O'Drobinak from his colleagues at Valdosta State.

Here is the obituary published on the Maclane Funeral Services web site:

Dr. David O'Drobinak, 42, of Valdosta went to be with the Lord on Wednesday, November 1, 2006 at Shands at University Hospital in Gainesville, Fla. He was born on October 11, 1964 in Hammond, Indiana and had lived in Valdosta since 2002. Dr. O'Drobinak was a professor of physiology at Valdosta State University and attended the Azalea City Church of God.

Survivors include his wife, Mandi O'Drobinak of Valdosta, two sons, Colin Wright and Adam O'Drobinak both of Valdosta, his father and stepmother, John and Gloria O'Drobinak of Crown Point, Indiana, his mother, Rita O'Drobinak of Crown Point, Indiana, two brothers and sisters in law, John and Lori O'Drobinak, James and Liana O'Drobinak all of Tampa, Fla., several nieces and nephews, his parents in law, Steve and Tammy Minton of Ozark, Alabama.

Funeral services will be held at 2pm, Saturday, November 4, 2006 at Azalea City Church of God with Rev. Raymond Gabbard and Rev. John Harrell officiating. Burial will follow in Riverview Memorial Gardens. The family will receive friends at Saturday at the church from 1pm until service time. In lieu of flowers, memorials maybe made to the family for educational funds for Adam and Colin. Condolences to the family maybe conveyed online at www.mclanefuneralservices.com. Carson McLane Funeral Home.