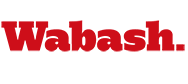 Wooster Expects Big Things from Senior Watson
by Matt Wilson

August 10, 2006

GRANVILLE, OHIO - Mike Schmitz enters his seventh season as the College of Wooster's football coach expecting senior Evan Watson to be one of the key cogs on the Scots' defense.

Watson, a defensive end, is coming off a junior season where he finished fourth on the team with 62 tackles, 34 of those solo. Watson tied for the team-high with 121/2 tackles for a loss and led the team with 71/2 sacks. Watson was named first-team all conference last season was on the honorable mention squad his sophomore season. Teammates voted Watson the "defensive player of the year" following last season.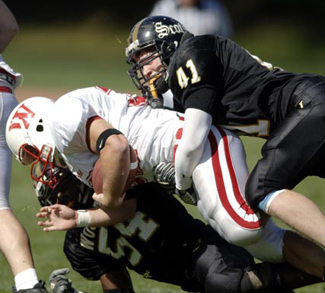 "Evan Watson is going to be a key player for us," said Schmitz, whose team last season finished 6-4. "He has got an amazing variety of talents. Along with that, he brings a ton of emotion to the field. I expect him to have a great senior year."
Watson is the son of Wabash College Professor of Theater Dwight Watson.
Wooster opens its season Sept. 2 against John Carroll.
Returning quarterbacks
Wabash joins Denison and Wittenberg as the teams searching for new quarterbacks for the 2006 season.
The Little Giants lost Russ Harbaugh due to graduation. Also gone from last season are Denison's Larry Cappetto and Wittenberg's Ryan Holmes. The Tigers do return senior tailback Tristan Murray for his fifth season. Murray led the conference in rushing last season, gaining an average of 122.4 yards on the ground.
Some of the conference team's quarterbacks return after being injured last season. After playing in three games and missing the remainder of the season with a foot injury, Earlham's Justin Rummell was granted a medical hardship and returns for his fifth season. After an injury-plagued 2005 campaign, Justin Schafer returns to quarterback Wooster his senior season.
"Justin (Schafer) is just a leader and his experience is really going to help us," Schmitz said. "After he got injured last season, you could just tell that mentally this team was different."
Rummell passed for an average of 300.3 yards in the three games he played in last season. He set the Quakers' school record for passing yards with 2,581 in 2004.
Other returning quarterbacks this season are Allegheny's Jimmy Savage, Hiram's Trevor Henderson, Kenyon's Rafael Sanchez and Oberlin's Andy Stein. Sanchez finished last season second in the conference with his average of 273.3 total yards per game.
Tough start
Wittenberg was picked to finish fourth in the coaches and media polls.
The Tigers will certainly have a tough early-season schedule.
Out of Wittenberg's first six games, four of them are against teams ranked higher than them in the preseason d3football.com poll. Another one of those games is against 1-AA Dayton.
Wittenberg opens its season against No. 5-ranked Capital. Wittenberg then hosts Dayton and Alma. They then travel to Wooster on Sept. 30. Both Alma and Wooster received more votes than Wittenberg in the preseason poll. After hosting Earlham, the Tigers end their tough stretch with a home game against No. 20-ranked Wabash.
"That is just murder's row," Wittenberg coach Joe Fincham said. "When you look at that, we are going to be the underdogs in five of our first six games."
In photo: Evan Watson makes a tackle in last year's Wooster loss to Wabash.

Wilson is the Crawfordsville Journal Review Sports Editor.