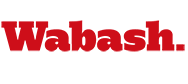 Kenneth Rudolph Remembered with Summer Scholarship
by Jim Amidon

June 9, 2006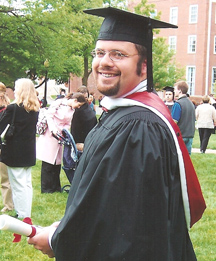 Wabash College announces the establishment of the Kenneth Rhys Rudolph Memorial Fund for European Summer Study Abroad. The fund was established by friends and family members to honor the memory of Rudolph, a 2005 cum laude graduate of Wabash College, who died in a tragic automobile accident at the age of 23.
The Kenneth Rhys Rudolph Memorial Fund provides need-blind financial support for a student or students from Wabash who choose to study in a European country during the summer. The Memorial Fund was established by his parents, Rhys and Laura Rudolph, and his sisters, Kathryn and Lauren Rudolph.
A native of Fort Wayne, Indiana, Rudolph majored in religion and minored in philosophy while a student at Wabash. He served as editor-in-chief of the student political journal The Wabash Commentary, and brought to campus a number of nationally known political speakers and commentators, as well as leaders in the religious community. Rudolph studied abroad in Scotland the summer following his junior year, further enriching his Wabash educational experience.
Kenneth was known to socialize amiably across nearly all sectors of campus and enlivened classrooms with thoughtful and needed perspectives. He fostered careful and critical reflection well beyond classroom walls; his fearless penchant for vigorous conversation and inquiry motivated his friends, opponents, and the entire campus to join him in thinking about the things that matter most.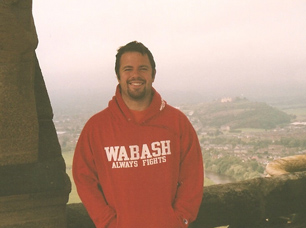 "The Kenneth Rhys Rudolph Memorial Fund will have a lasting impact on generations of Wabash students," said Joseph Emmick, dean for college advancement at Wabash. "It will provide opportunities for young men to have the same life-changing international experiences that meant so much to Kenneth. We are grateful to his family and friends for establishing such a thoughtful and meaningful fund."

Wabash students will be able to apply for the scholarship funds beginning in the 2006-2007 academic year to be used in the summer of 2007. The Wabash College Off-Campus Study Committee will make the awards.

Upon learning of his untimely death, Kenneth's friends and family began to send memorial gifts to Wabash College, which now total $150,000. Additional contributions should be sent care of the Advancement Office at Wabash.

For information on how to apply for the Kenneth Rhys Rudolph Memorial Fund, contact David Clapp in the International Studies Office at Wabash.




For more information see: