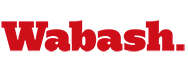 Planning Begins for Wabash Day 2006
by Howard Hewitt

May 25, 2006

For the second year Wabash alums across the country will combine forces in their community for a day of service. The National Association of Wabash Men sponsored the first-ever Wabash day in 2005 and expect more than last year's 16 regional alumni associations to participate Oct. 14 or 15, 2006.

"Our core values come from two principle sources," Wabash Day chairman Jon Pactor '71 said. "The Gentleman's Rule requires us to be gentlemen and responsible citizens on and off the campus. Most of the time it's the gentleman part of the rule that is emphasized, but here we're talking about the responsible citizen part of the rule.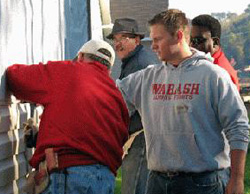 "The second source of the core values comes from the mission statement: to think critically, act responsibly, lead effective, and live humanely. If we think critically, act responsibly, lead effectively, we will make our communities live more humanely."
Planning is already underway with chairmen accepting leadership roles to organize a day of work to benefit their community. This list will be updated throughout the summer and fall. Contact the person in your area to get involved. If you don't see your area listed here and you'd like to organize a Wabash Day activity in your community, contact Pactor.
Here is a list of the Wabash men who will organize service days in their community:
In Indiana:
Avon/Plainfield, Ind. – Aman Brar '99
Bloomington, Ind. – Pat East '00 and Dustin DeNeal '04
Columbus, Ind. – Dom Glover '93
Danville, Ind. – Bill Harrington '85 and Scott Quick '88
Indianapolis – Pactor
Lafayette, Ind. – Lou Fenoglio '81
Marion, Ind. – Craig Miller '97 and Dave Callecod '89
Marshall County, Ind. – Fred Haase '71
Parke County, Ind. – Craig Green '59
South Bend, Ind. – Peter Horvath '92
Westfield, Ind. – Rob Paugh '92
Elsewhere around the country:
Cleveland – Don Wagner '82
Grand Rapids, Mi. – Jay Fisher '66
Denver – John Panozzo '89
St. Louis – Jim Thomas '73
Chicago, North Shore – Mark Dewert '74
Rockford, Southwest – Charlie Bell '66
Rockford, Ill. – Phil Kesler '01
Houston – Greg Birk '77
Minneapolis – Charlie Crowley '70
Mississippi – Lee Cline '65
Columbia, S.C. – Jon Graf '96