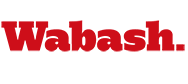 Auditions Set for Final Theater Production
February 23, 2006

Get directions to Wabash College Fine Arts Center

Auditions for The Braggart Soldier by James Fisher, a farce freely adapted from Plautus's Miles Gloriosus and the traditions of commedia dell'arte, will be held at 7 p.m. Monday, March 13 and Tuesday, March 14 each evening in Ball Theater in the Fine Arts Center.

Roles of varied size are available for 10-12 men and 1 woman (age 15-25). Auditions are open to everyone (no previous experience required) and scripts for the play may be signed out from the Fine Arts Center box office. Rehearsals will commence on Wednesday, March 15 and the play will run April 19-22.

The Braggart Soldier is loosely inspired by several theatrical traditions, from ancient comedy and commedia dell'arte to a range of contemporary comic styles of stage and screen. The play focuses on the escapades of a swaggering soldier who stands in the way of two lovers. The lovers are aided and abetted by an array of clever servants. The production's style will lampoon the theatrical traditions that inspired it—and will satirize human foibles to demonstrate that humor is a strategy for survival.

The production will be directed by Wabash College Professor of Theater James Fisher.

If you have questions about auditions contact James Fisher at 765-361-6394 or email at fisherj@wabash.edu.